THRUXTON RS
ENGINE AND PERFORMANCE
How the Thruxton's new higher power 1200cc engine was developed to deliver a major step up in performance.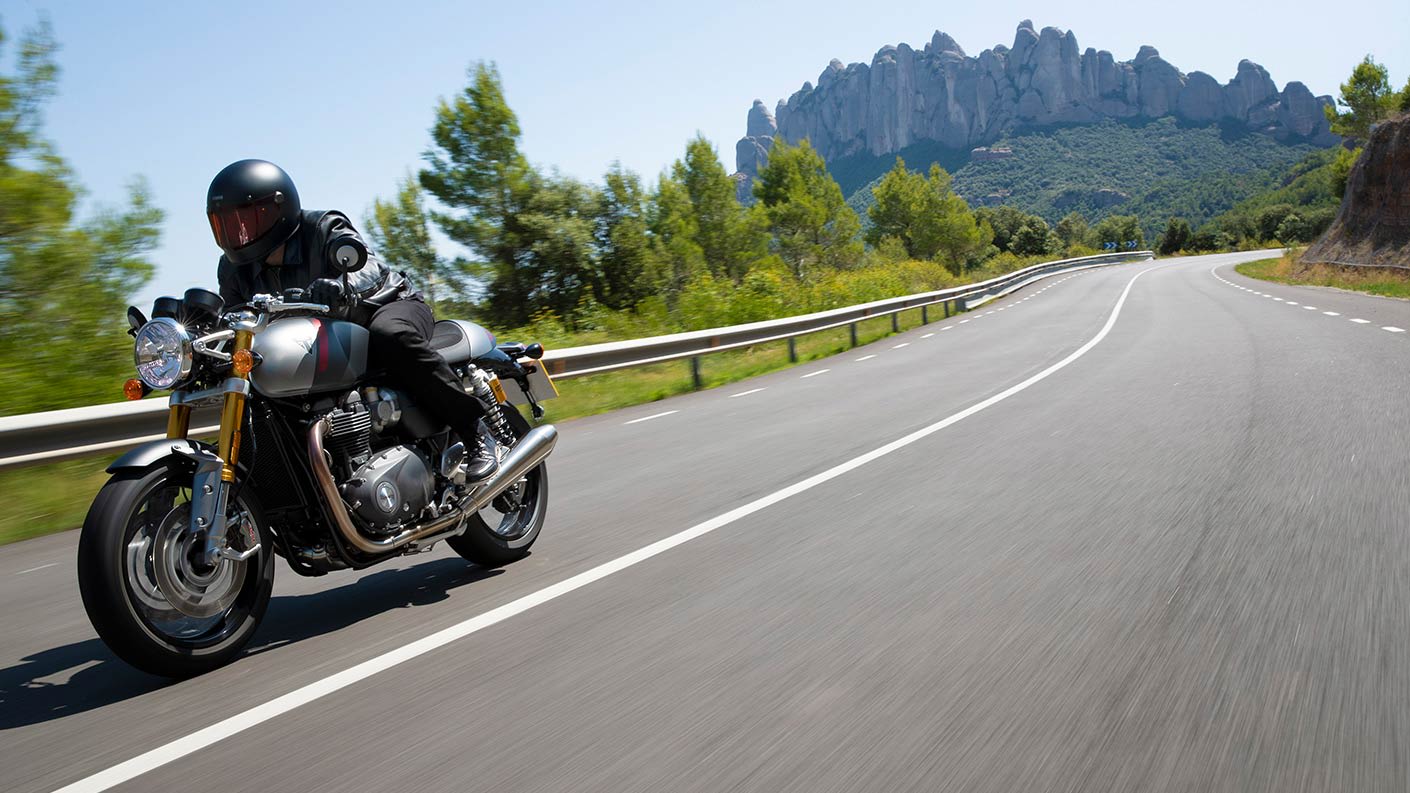 ENGINE
Living up to its legendary cafe racing name demands a truly modern standard of performance. It's why the new Thruxton RS introduces an updated Euro 5 twin 1200cc engine with major developments that give it 8PS more power, peak torque lower in the rev range, plus more amazing Thruxton character and an incredible British twin sound.
Increases in power across the whole rev range have been achieved through significant engine upgrades, including high compression pistons, revised ports and cam profile, and a secondary air system. There are also weight savings through the introduction of new components to include low inertia crankshaft, clutch, balance shafts, rare-earth alternator, magnesium cam cover and thin-walled engine covers.
All these together deliver a major increase in performance with an incredible 8PS more peak power than its predecessor, with 105PS @ 7,500rpm, and higher levels of power low-down and up through the range. Adding to the performance enhancement, the 112Nm Thruxton RS peak torque figure is now delivered 700 rpm lower in the rev range.
This new engine is also much more responsive with more character and, in keeping with Thruxton expectations, has a thrilling British twin sound. The engine updates contribute to a 20% reduction in inertia, so it now revs harder for longer, spins up faster, and achieves higher power output, with a red line that's 500rpm higher than the Thruxton R.
As for the soundtrack, a new exhaust system with sporty twin reverse cone megaphone silencers, delivers the rich raw note of a British racing twin that absolutely lives up to the bike's legendary name.
SPECIFICATION
A combination of premium features add an extra dimension to this new Thruxton ride to justify the RS title, delivering cutting edge modern performance from higher specification equipment and enhanced technology along with ride-enhancing features that include ride-by-wire, better fuel efficiency, a high first major service interval of 10,000 miles (16,000km), and a hidden catalytic converter system that delivers lower emissions which exceed Euro 5 compliance.
One other rider-focused feature is the Thruxton RS's torque-assist clutch, which is optimised to reduce clutch lever effort for the rider. This offers more comfort over long journeys and stop-start riding such as urban commutes, and it also reduces clutch packaging which facilitates the narrower engine.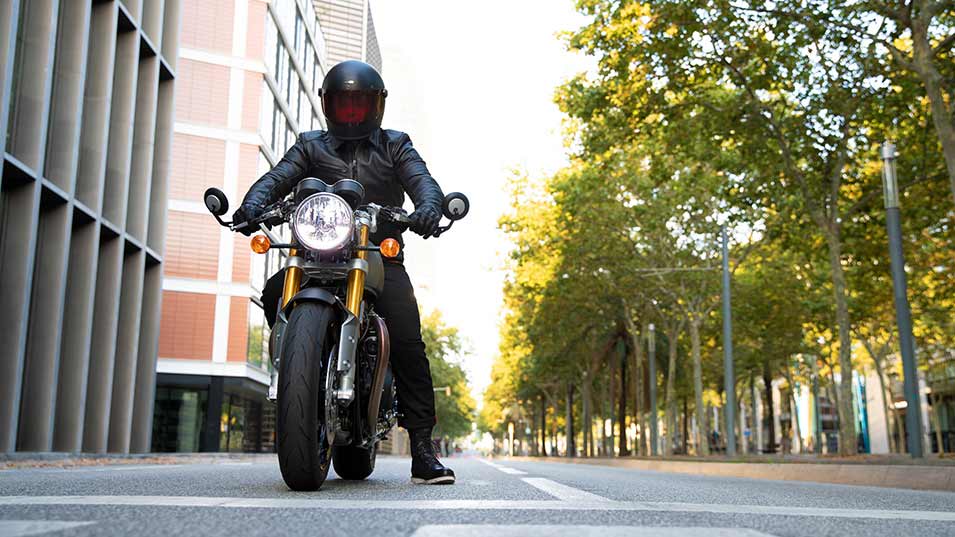 NEW EURO 5 DESIGN
After almost four years of development, the engine improvements we've made to this new Thruxton RS have resulted in increased power and response, and together these updates have really enhanced the sporty character of the bike. The unique cafe racer ride is, of course, a huge part of the Thruxton experience, but what changes were made, and what difference to your ride can you expect from this new improved bike?
One of the major technical improvements to the new Thruxton RS is the reduction of engine inertia, which has improved and smoothed the power delivery so you can now genuinely feel more response during acceleration, even through the mid-range. This better response, and higher power, was principally achieved by developing a new shorter crankshaft and new reduced thickness magnesium cam cover. These combined with the 6kg weight saving and higher spec equipment have contributed to an amazing new Thruxton RS riding experience.
To support the Thruxton's elegant styling, a major part of the design process involved honouring the bike's unique aesthetics. Triumph's approach of designing motorcycles with integrated engineering ensures that what you can see is beautiful, while essential equipment such as cables, pumps, hoses and modern technology components are all hidden to make the bike as beautiful to look at, as it is exciting to ride.
One great example is the exhaust system, which now delivers to the latest new Euro 5 requirements. The Thruxton has a 270° crank firing set-up that generates that characterful signature parallel twin sound, and the exhaust system that manages this thrilling soundtrack features an elegantly engineered hidden catalyst system behind a beautifully routed single skin header pipe.
Refinements like these are often complex to achieve, but they are indicative of Triumph's incredible attention to detail, and our obsessive commitment to achieving the perfect ride.