ROCKET 3 TFC
THE ULTIMATE MOTORCYCLE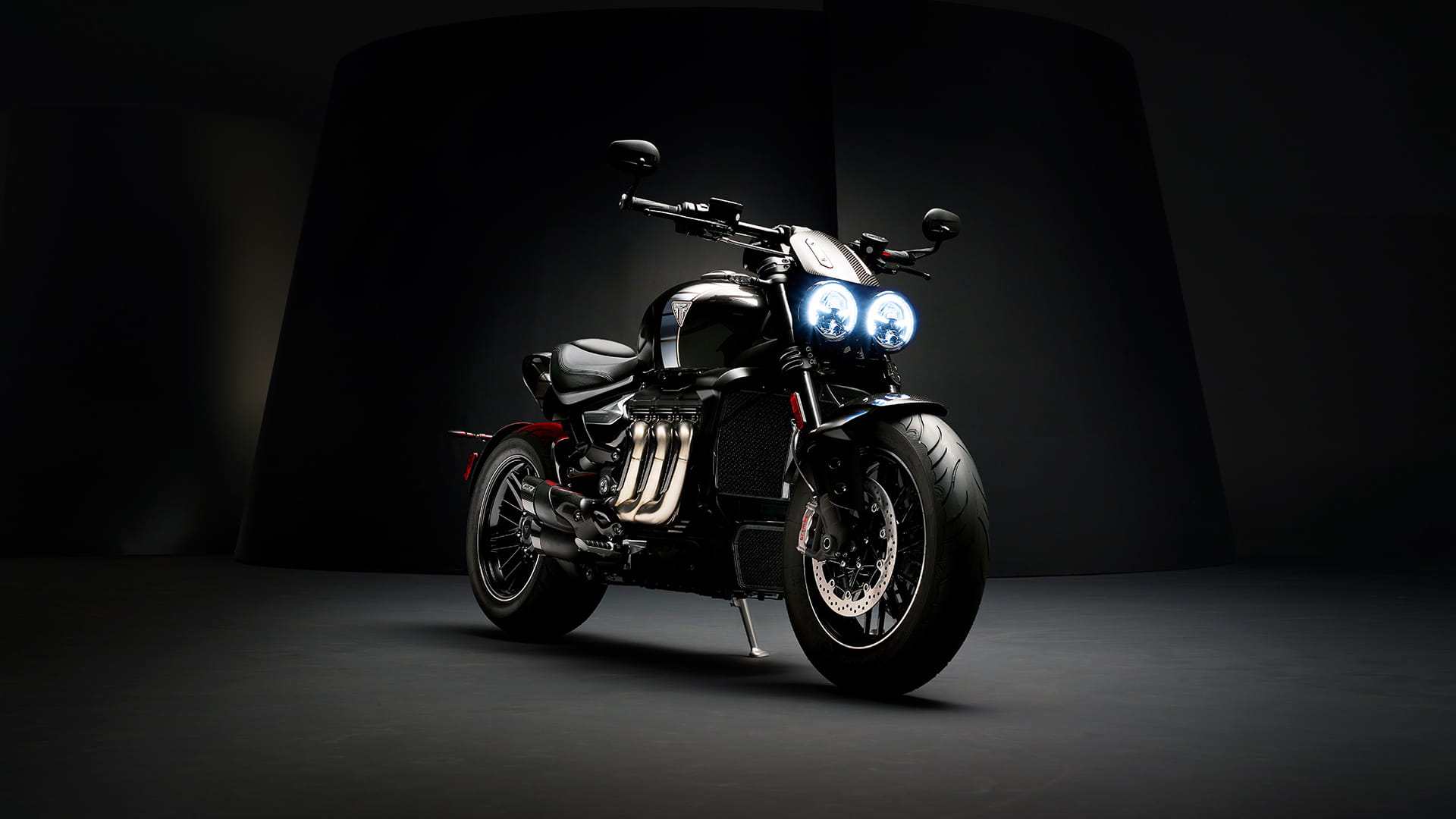 A BRITISH ENGINEERING MASTERPIECE
Creating an all-new ultra-premium custom motorcycle, that builds on the Rocket III's incredible legacy with a new world's biggest 2500cc triple engine and amazing laid-back muscular presence, has demanded a quantum leap in motorbike design.
The stunning Rocket 3 TFC delivers an incredible benchmark-setting specification, with jaw-dropping performance, detailing and finish, plus category-defining technology, heart-stopping style and more presence than anything on the road today.
This is the ultra-premium ultra limited edition Rocket 3 TFC; a genuine British engineering masterpiece.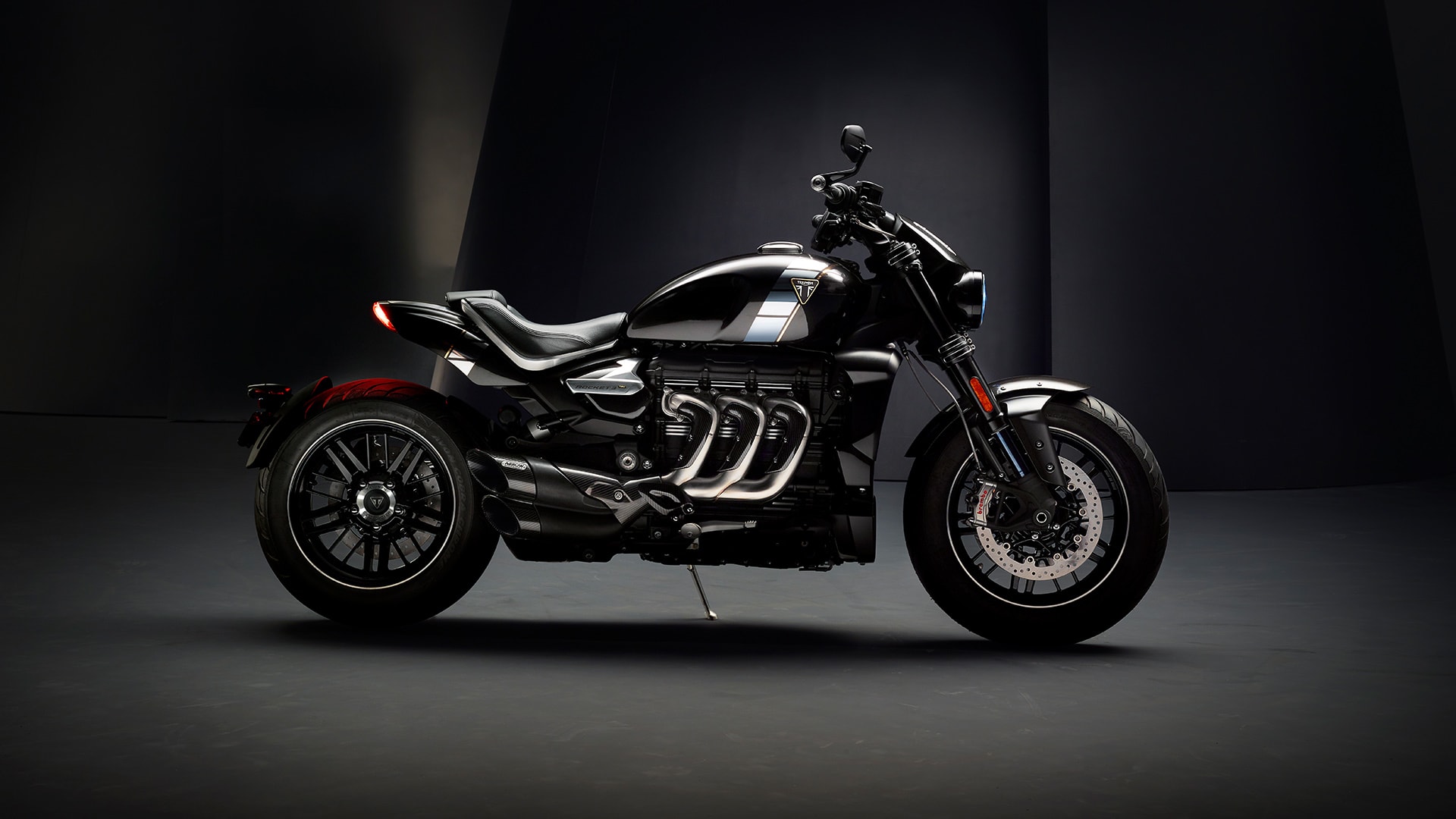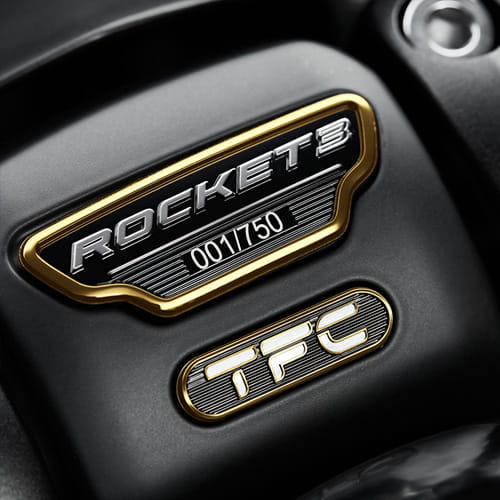 Ultra Limited Edition
Each Rocket 3 TFC motorcycle is a one-off and never to be repeated. Only 750 will ever be made, and every single bike's unique premium TFC badging includes a numbered edition plaque.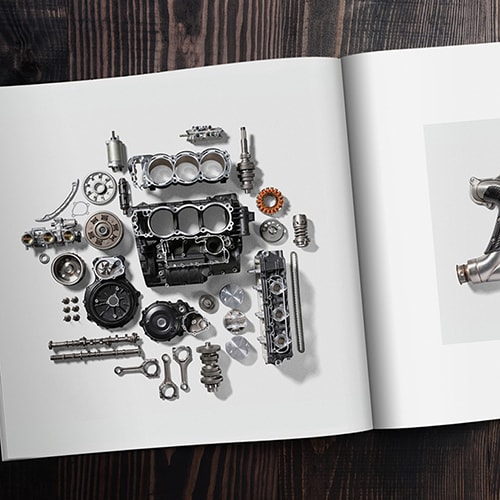 Premium Custom
Rocket 3 TFC owners receive a special handover pack that includes a numbered certificate signed by Triumph CEO Nick Bloor, Rocket 3 TFC-branded cover, and personalised TFC book showcasing the process of your Rocket 3 TFC bike build.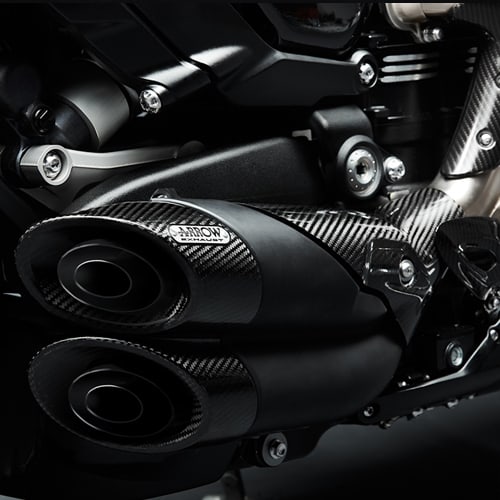 Unique
Every Rocket 3 TFC motorcycle is developed, hand-built, and uniquely numbered as a custom special in its own right. Owners also get exclusive access to a dedicated TFC riders' parts offer.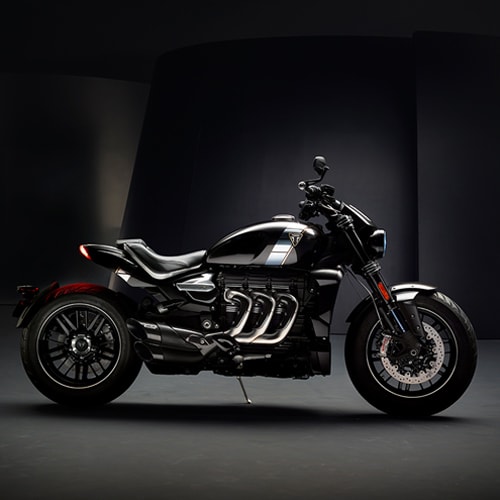 THE WORLD'S BIGGEST PRODUCTION MOTORCYCLE ENGINE
At 2500cc, the all-new Rocket 3 TFC has the world's biggest motorcycle production engine. With an even higher capacity and higher revving than the previous Rocket, this all-new powerplant is an engineering masterpiece that features lightweight titanium valves (giving a 40% weight saving over the previous generation), machined fins on upper and lower crankcases, a dry sump, and an integral oil tank.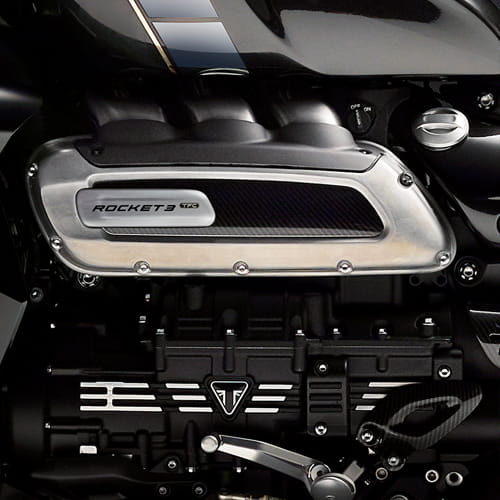 HIGHEST TORQUE OF ANY PRODUCTION MOTORCYCLE 
The new 2019 Rocket 3 TFC engine takes the class-leading status of its predecessor to a whole new benchmark-setting level with 225Nm, the highest peak torque of any production motorbike in the world. In addition, peak power of 182PS (at least 20% up on the previous Rocket III) means the Rocket 3 TFC is the most powerful Triumph motorcycle ever built.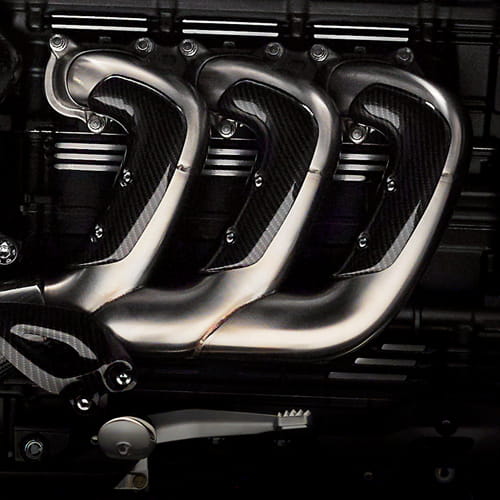 STUNNING SIGNATURE DETAILS
The Rocket 3 TFC delivers a host of custom crafted features including a unique hydro-formed '3-header' exhaust run that flows beautifully from the cylinder head, and is innovatively engineered for the perfect exhaust routing.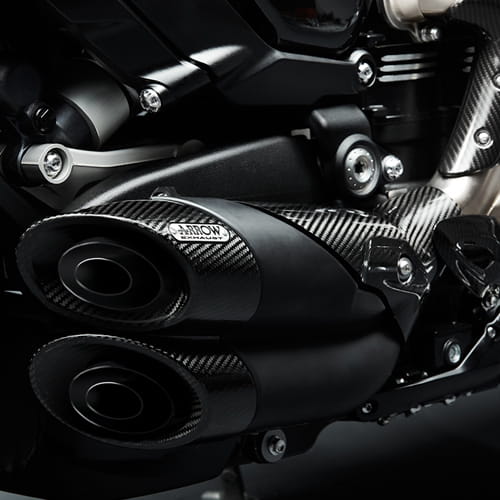 UNIQUE FEATURES
One of the many features unique to the Rocket 3 TFC includes beautifully styled one-of-a-kind Arrow silencers with carbon fibre end caps and heat shields, which deliver the unbelievable distinctive new deep growling triple-powered Rocket 3 TFC soundtrack.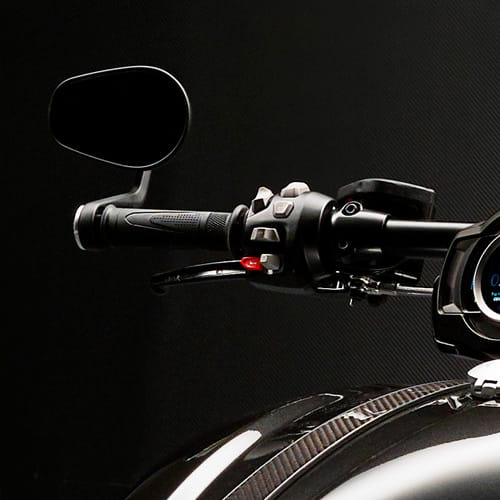 Helical Gearbox
Engineered specifically to allow for the Rocket 3 TFC's world-leading torque capacity, the all-new six-speed precision-crafted high performance helical gearbox is smoother, stronger and lighter than the previous generation. In addition, to reduce clutch lever effort, a unique slip & assist hydraulic clutch offers brilliant rider comfort and control.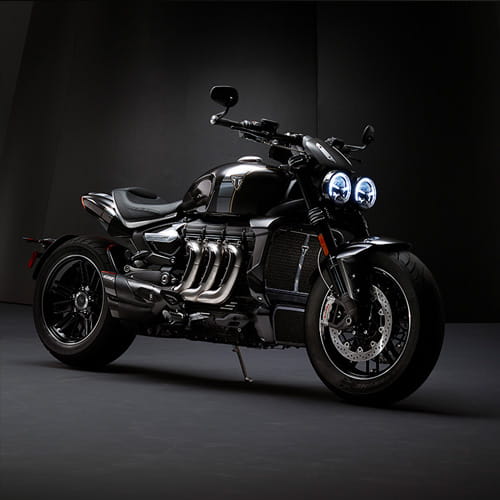 HEART-STOPPING MUSCULAR PRESENCE
Nothing in the world of motorcycling comes close to the brooding muscular presence of the new Rocket 3 TFC. From its imposing poise and stance, to its beautiful clean flowing lines and stunning details, it exudes attitude, class and style from every angle.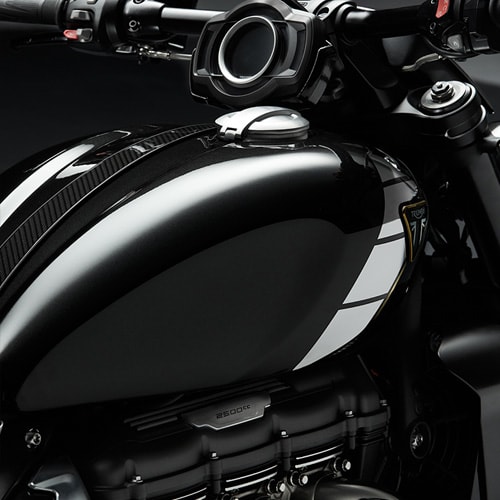 PREMIUM FINISH & DETAILING 
Every component, feature and detail on the new Rocket 3 TFC has been crafted and developed to be the absolute best of its kind. From carbon fibre bodywork to brushed aluminium features, premium leather seat, and TFC carbon paint, every finish and material has been selected to set a stunning new standard for factory custom design.
Special Style Features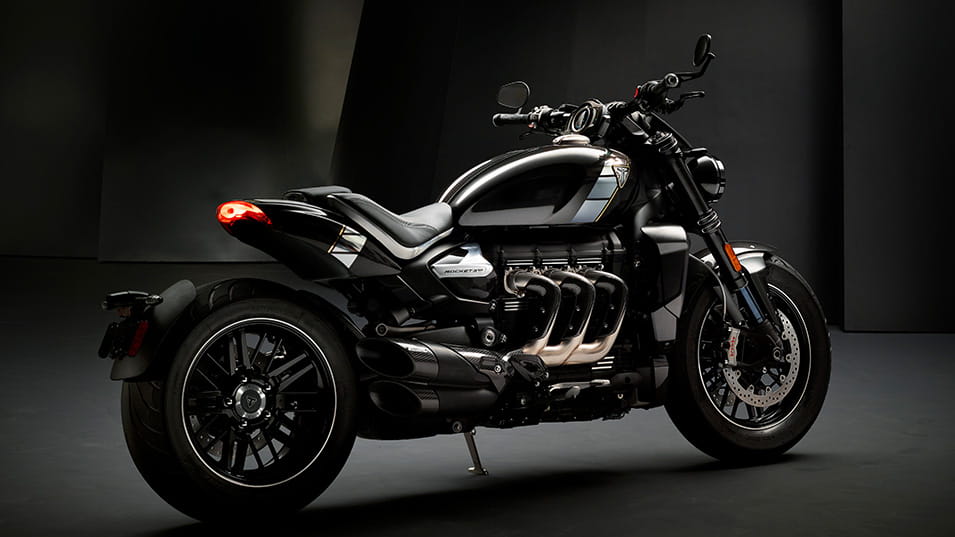 INTRICATE 20-SPOKE WHEELS
New lightweight cast aluminium wheels deliver a contemporary design with stylish exposed machined detailing. The imposing wide 240mm rear tyre size adds an incomparably unique presence.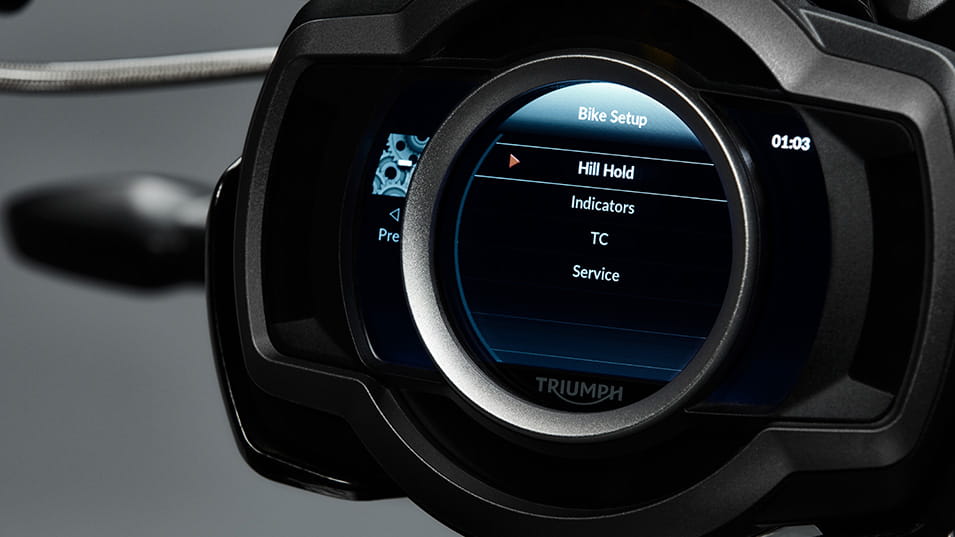 SIGNATURE MINIMAL TWIN HEADLIGHTS
With integrated maker's mark triangle branding and distinctive light silhouette, the new set-up maintains maximum visibility with powerful and durable twin LED headlights and Daytime Running Lights (DRL - where allowed).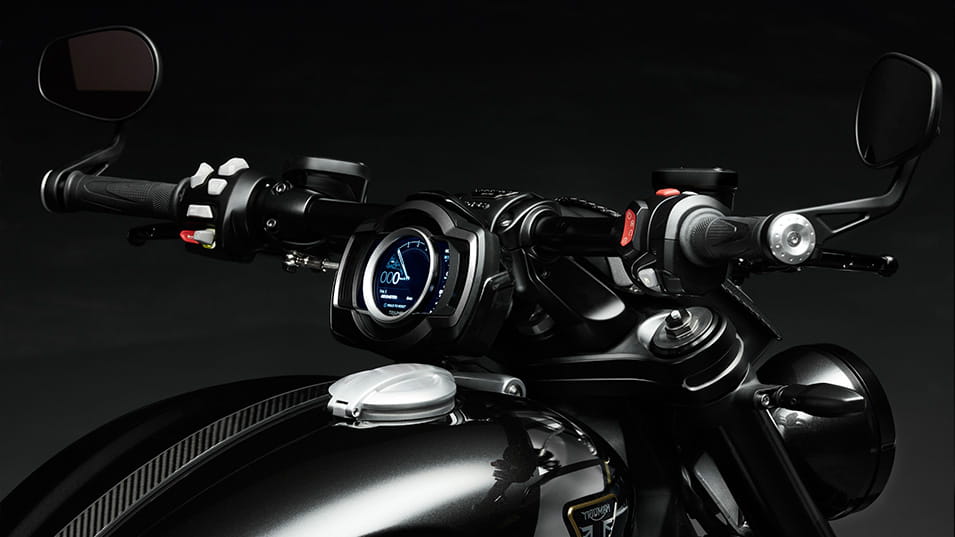 COMMANDING FLAT HANDLEBARS
Stylish flat handlebars, which are internally wired for a clean, uncluttered style, are in keeping with the Rocket's unique muscular feel and commanding riding position.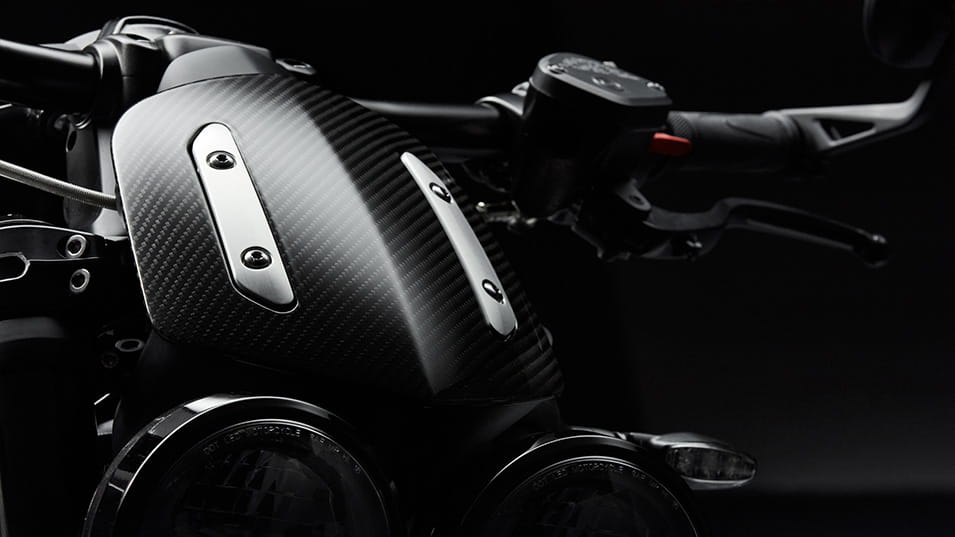 PREMIUM CARBON FIBRE BODYWORK
Beautiful carbon fibre bodywork components add a premium look and feel. Components include front mudguard, silencer end caps, exhaust heat shields, fly screen, driveshaft cover, heel guards and tank strap.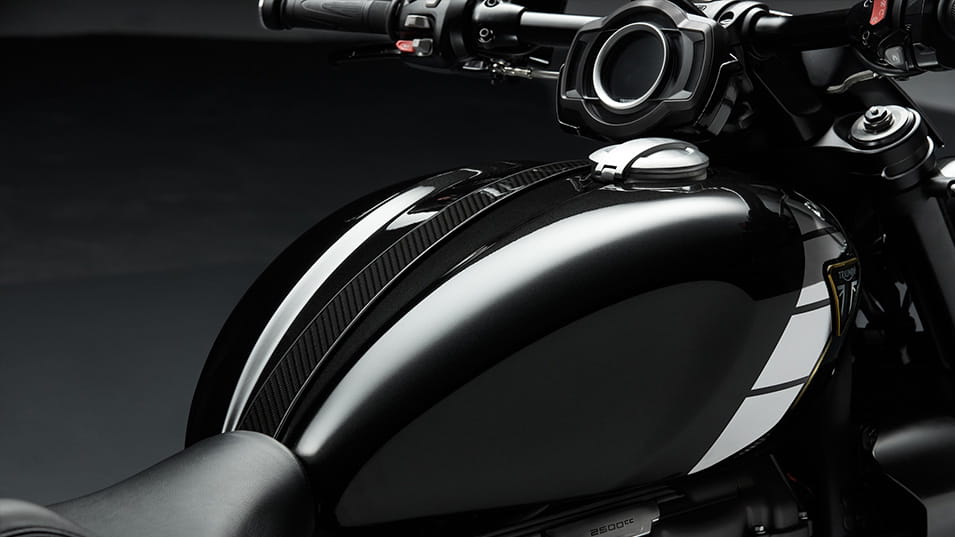 PREMIUM DETAILING & FINISH
The Rocket 3 TFC motorcycle's unique premium detailing and finishes include sculpted fuel tank, brushed aluminium air box, brushed Monza-style coolant and oil caps.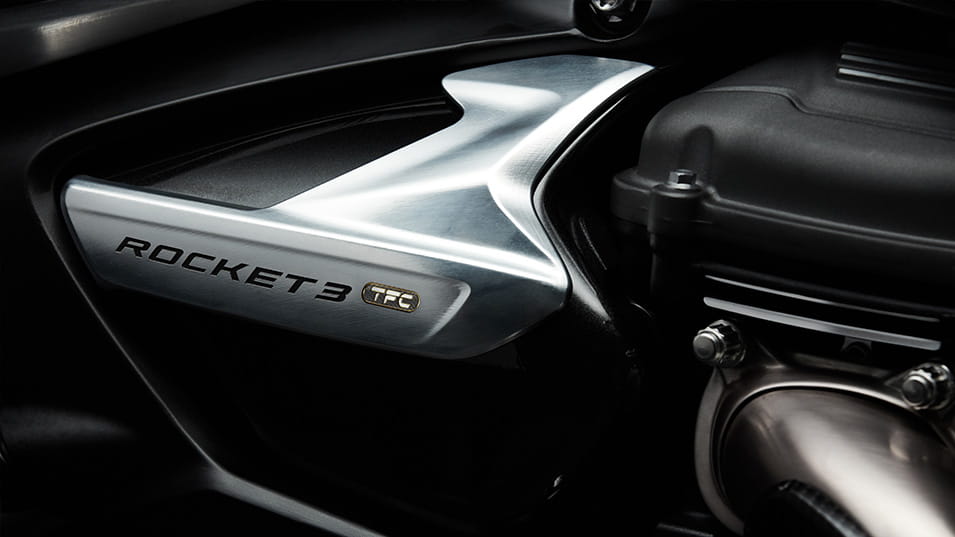 HIGH-VALUE TFC BADGING
The instrument mount features a unique individually numbered Rocket 3 TFC badge, which subtly complements the beautiful high-value TFC branding on the side panel, air box and cam cover.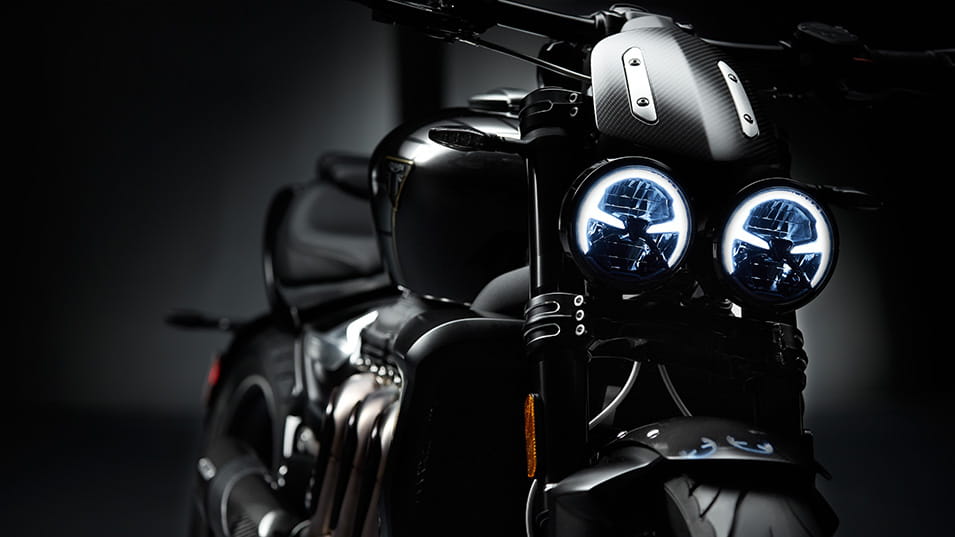 HIDDEN FOLDING PILLION FOOTRESTS
To enhance the Rocket 3 TFC's clean lines, the pillion footrests are designed to be folded away for an even more minimal look.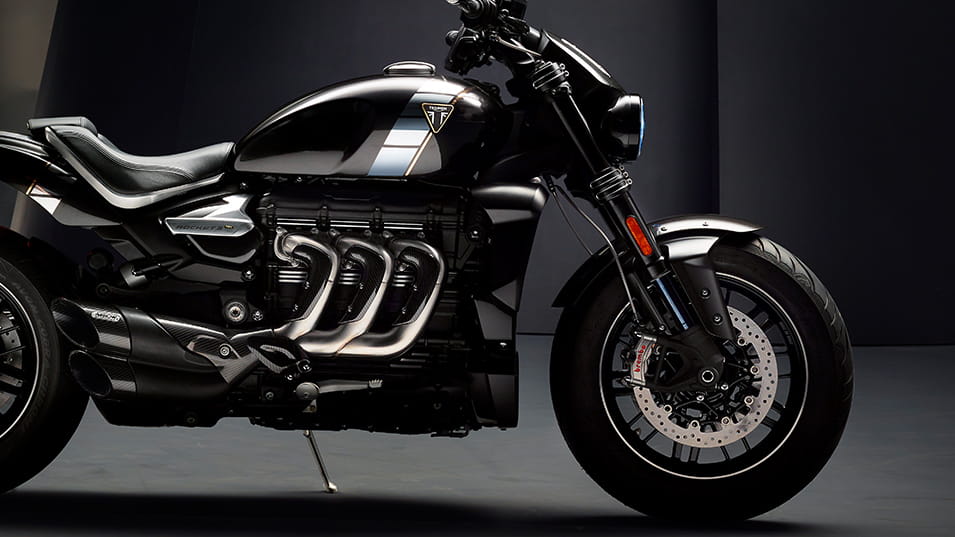 ONE-OF-A-KIND PAINT SCHEME
The unique Rocket 3 TFC paint scheme features exclusive TFC carbon black and matt carbon black twin paint scheme with brushed foil decals, gold accents and electroformed 3D Triumph badge.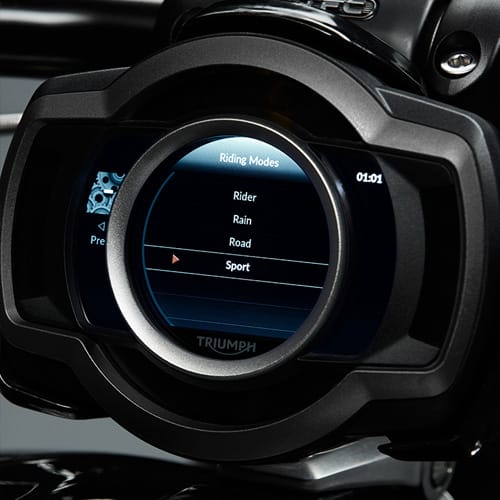 CLASS LEADING CAPABILITY
More sophisticated, more personalisable, and with much more functionality than ever before, the new Rocket 3 TFC features the absolute pinnacle of cutting edge technology: from latest 2nd generation full-colour TFT instruments to optimised cornering ABS and traction control, four riding modes, Triumph shift assist, all-LED lighting, cruise control and hill-hold.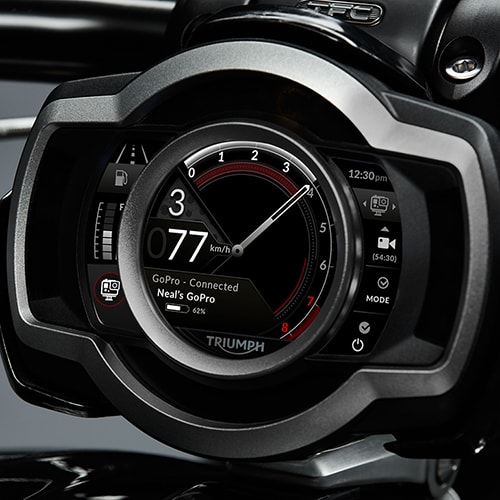 TRIUMPH TFT CONNECTIVITY SYSTEM
The all-new Rocket 3 Triumph Factory Custom's advanced TFT instruments have been designed to deliver even more capability when enabled by an accessory Bluetooth connectivity module.
When fitted, the full TFT connectivity system delivers the world's first motorcycle integrated 'GoPro' control system, Triumph's 'turn-by-turn' navigation system built with Google, as well as music and phone operation.
Technology HIGHLIGHTS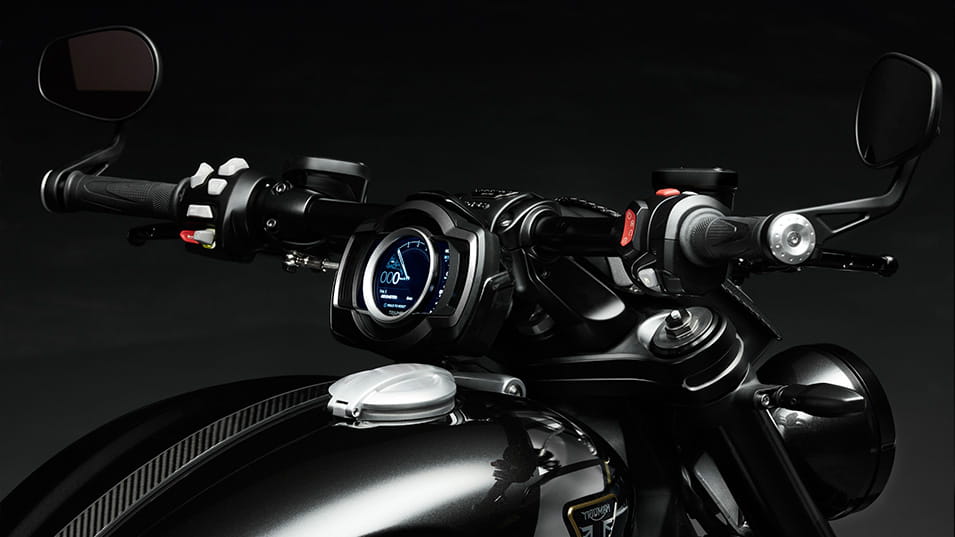 2ND GENERATION TFT INSTRUMENTS
The sophisticated full-colour 2nd generation TFT instruments, with their pin-sharp information display, deliver incredible functionality including a feature that allows the rider to personalise the start-up screen message. With angle adjustability for optimum visibility, the TFT system is easily controlled via illuminated switchcubes and intuitive 5-way joystick.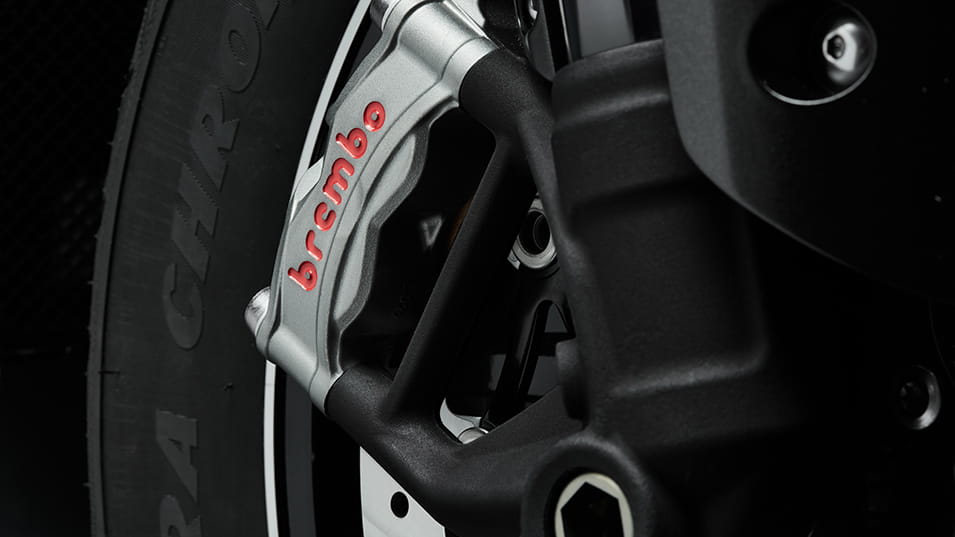 OPTIMISED CORNERING ABS & TRACTION CONTROL
The state-of-the art optimised cornering ABS and traction control set-up brings greater stability by controlling optimum brake performance and level of traction, whatever the lean angle. Both features are facilitated by an Inertial Measurement Unit (IMU) by Continental.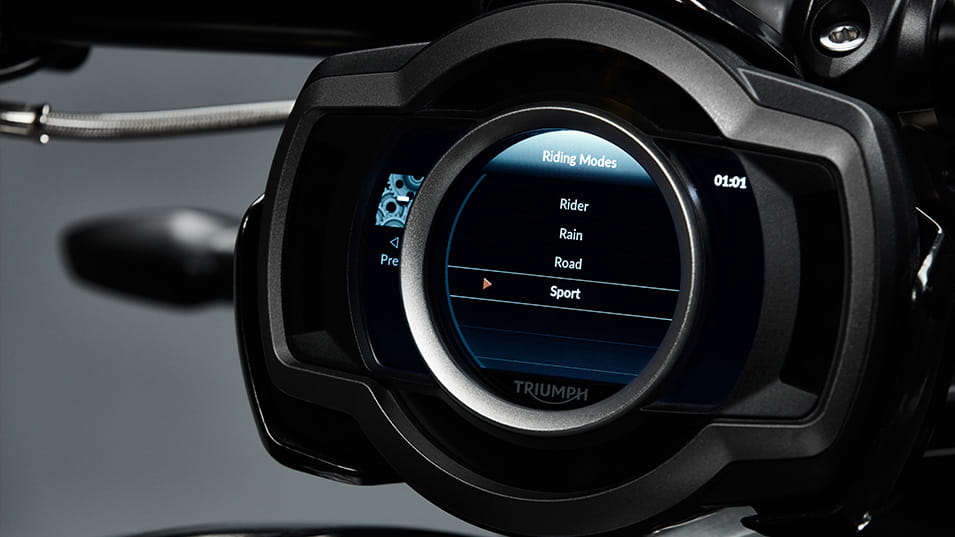 FOUR RIDING MODES
Four riding modes – Road, Rain, Sport, and Rider-Configurable – are easily changed 'on-the-move' via the illuminated switchcubes, and adjust the throttle map, ABS, and traction control settings to suit rider preference and riding conditions.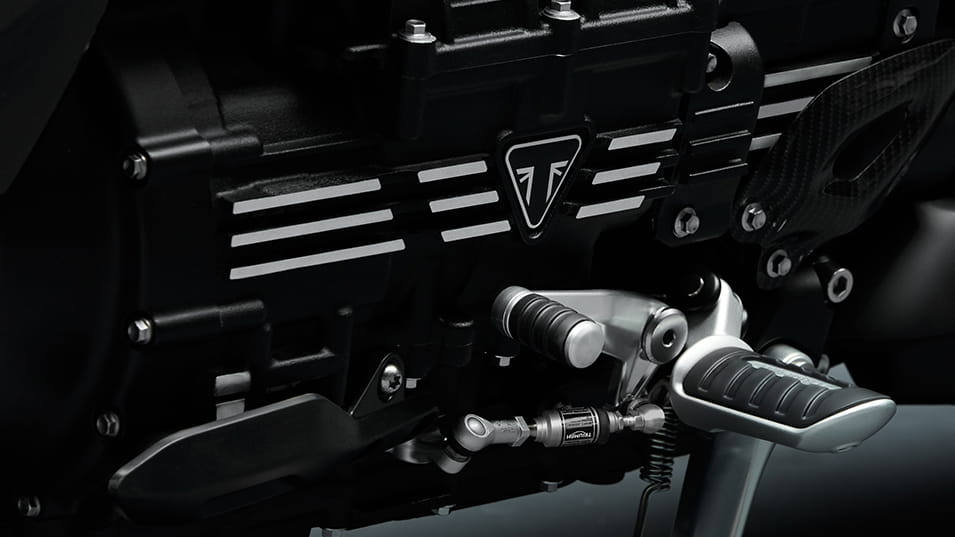 TRIUMPH SHIFT-ASSIST
Triumph Shift-Assist is fitted as standard to improve the riding experience and reduce rider effort by allowing clutchless up and down quick shifts.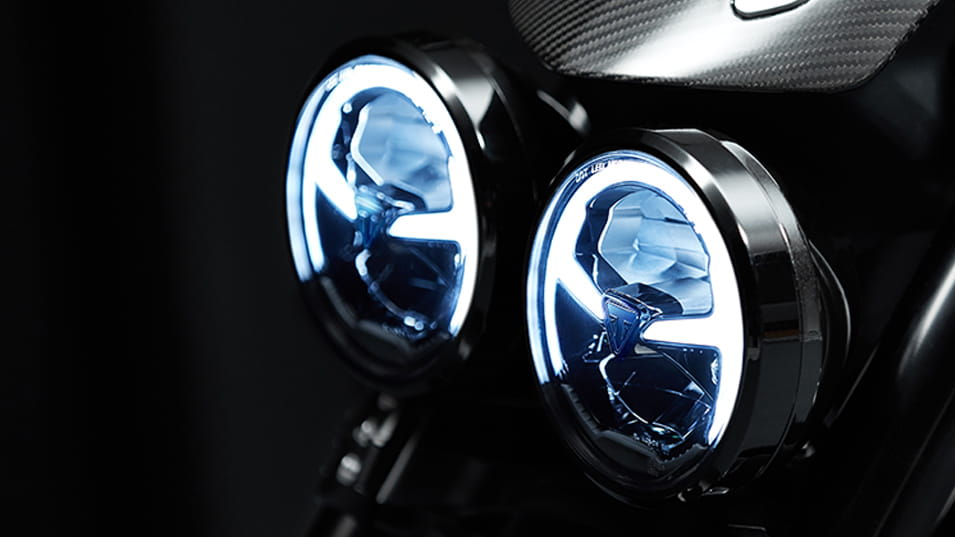 ALL-LED LIGHTING WITH DRL
Twin LED headlights feature signature shaped Daytime Running Lights* (DRL) for improved visibility, plus LED indicators, rear light, and number plate light offer performance, durability and power efficiency. *Market-specific regulations apply.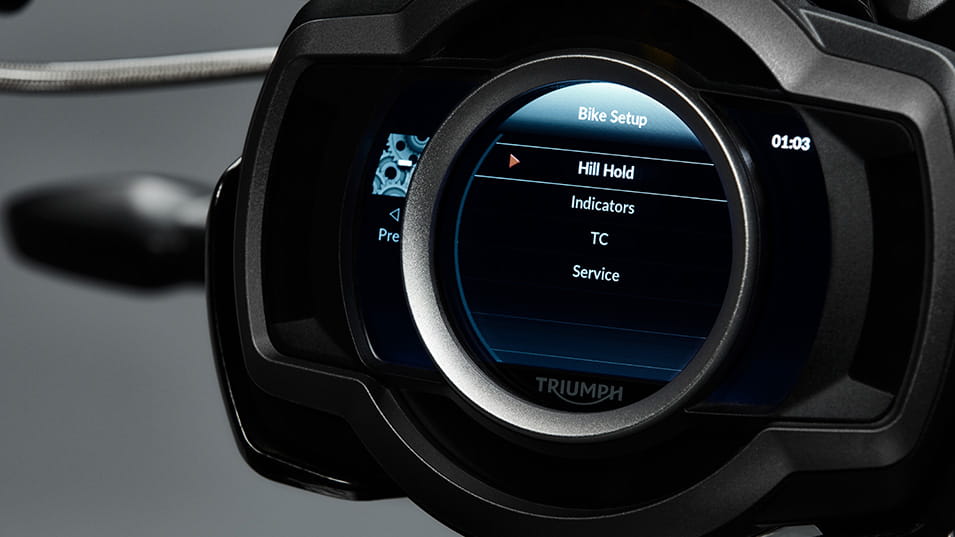 HILL HOLD CONTROL
For maximum control and confidence, hill hold control is switchable via the bike set-up menu and enabled using the front brake lever. The system prevents the motorbike from rolling backwards until you pull away.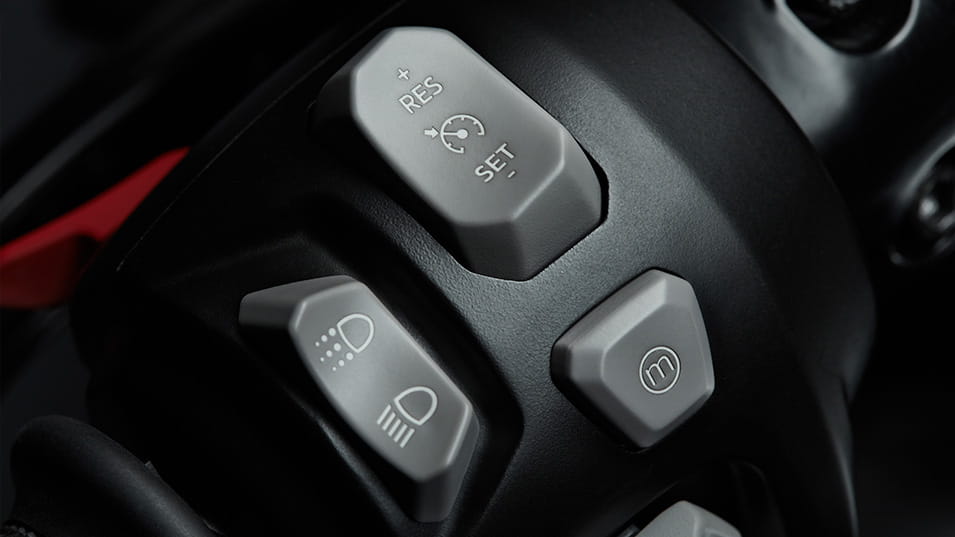 CRUISE CONTROL SYSTEM
This convenient rider-focused technology maintains a rider-selected set speed that helps reduce fatigue on longer journeys.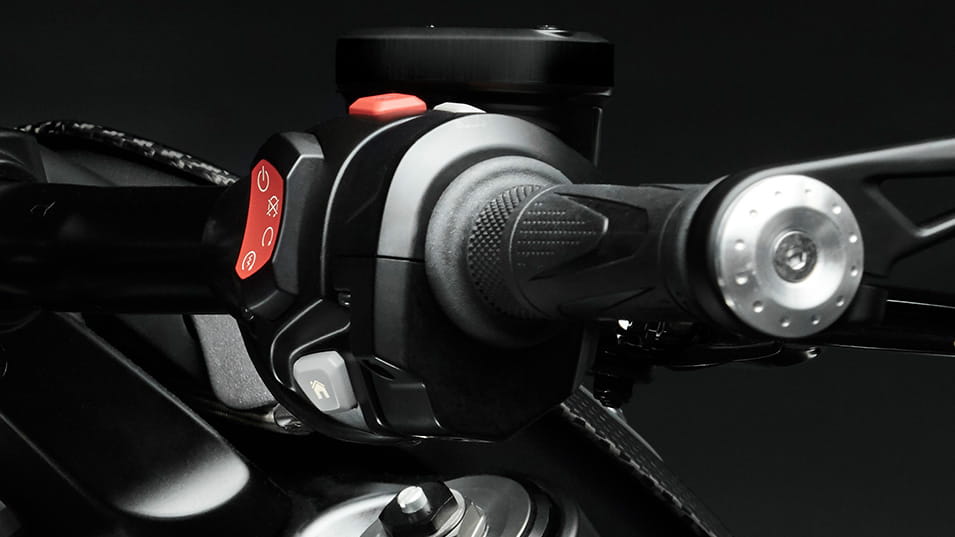 KEYLESS IGNITION
Cutting edge technology that recognises the proximity of the owner's keyless fob to enable ignition via the start button. An additional security element, unique to Triumph, allows the fob to be disabled anytime for even more peace of mind.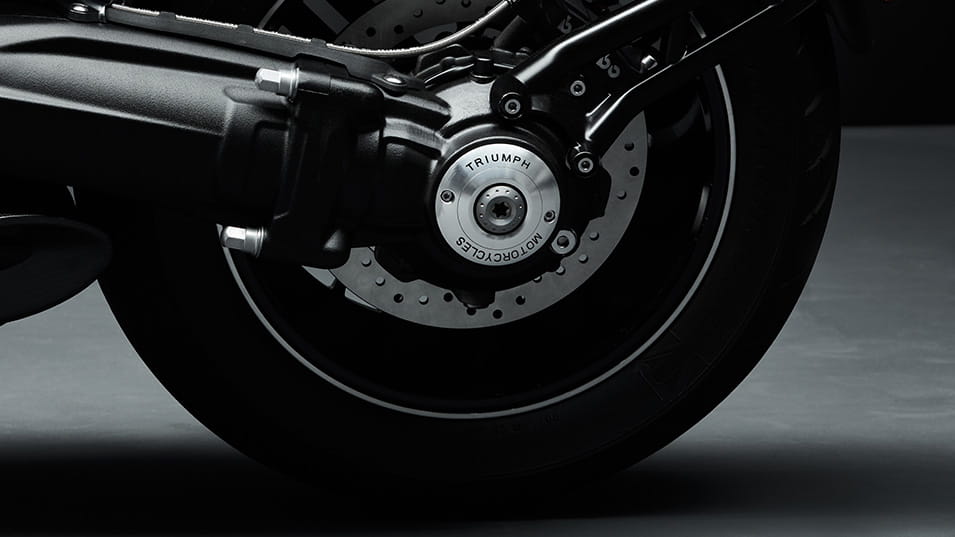 TYRE PRESSURE MANAGEMENT SYSTEM
Fitted as standard, this reliable electronic system continually checks and reports on tyre pressures for better rider safety and confidence.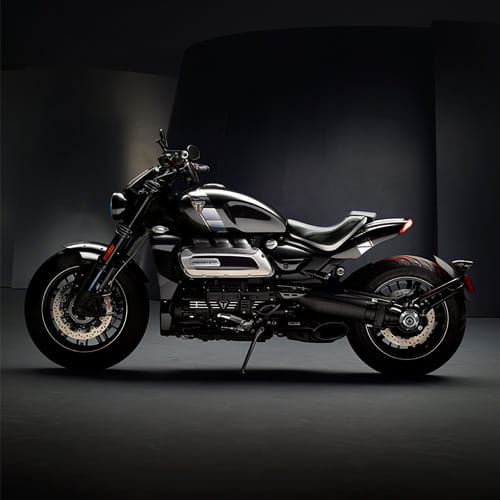 ALL-NEW ALUMINIUM FRAME 
An all-new aluminium frame with forward-facing air intake incorporates premium cast and forged components in a mass-optimised construction that delivers a 44.5kg weight saving (14%) over the previous Rocket III model, to give an incredible torque-to-weight ratio.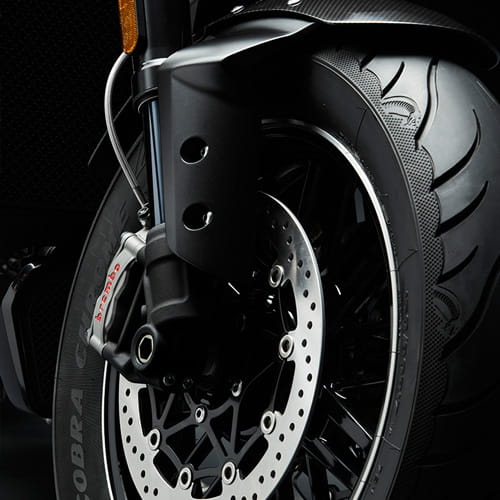 ASTOUNDING HANDLING
The Rocket 3 TFC's combination of ergonomics, new frame, and high specification suspension & brakes delivers an advanced riding experience with the kind of agility and neutral handling performance that's more aligned to a modern sports roadster.
PREMIUM SPECIFICATION HIGHLIGHTS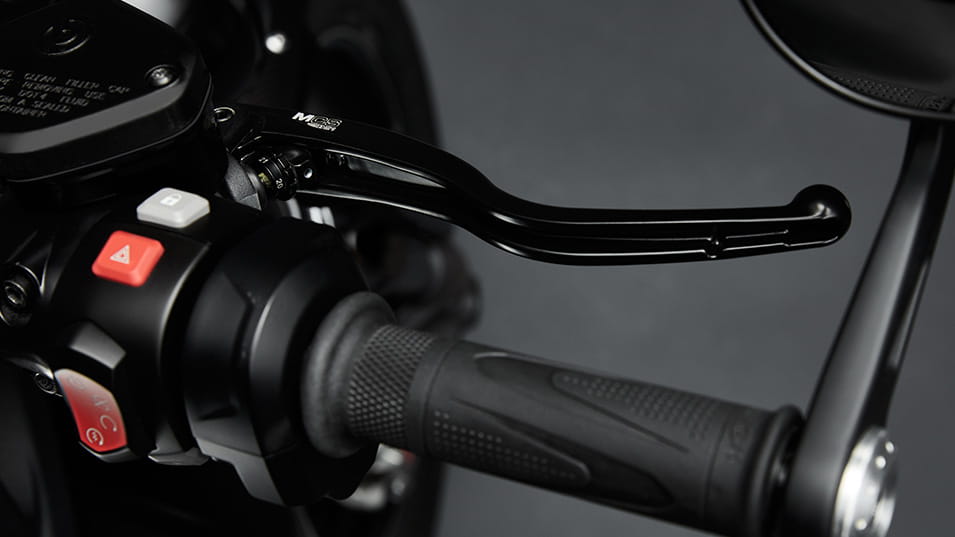 BREMBO MCS SPAN & RATIO LEVER
Multiple Click System (MCS) span and ratio adjustable brake lever by Brembo improves rider comfort by allowing the rider to customise the overall braking feel to suit personal preferences. Bespoke Brembo reservoirs are included.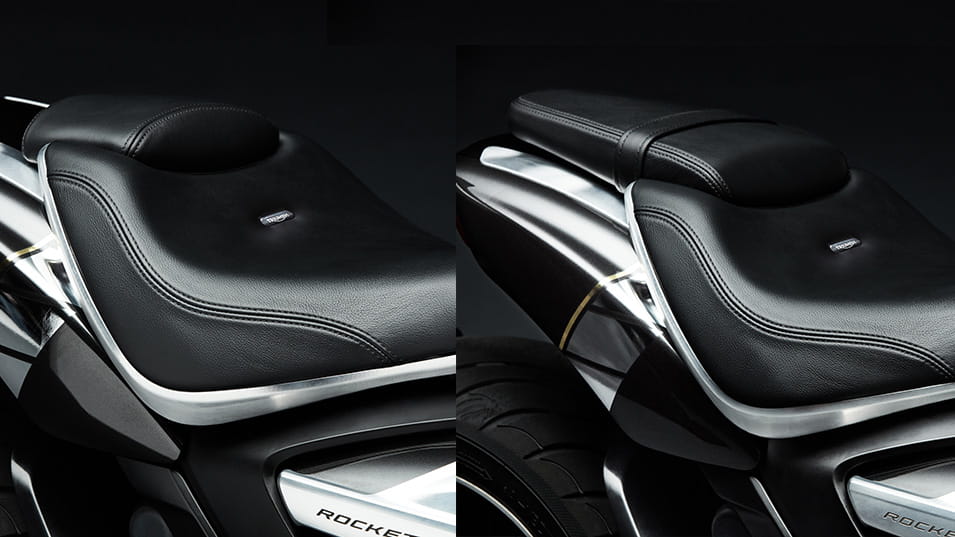 REAL LEATHER INTERCHANGEABLE 'SINGLE AND TWIN' SEAT SET-UP
Sculpted interchangeable single and twin seats come as standard. Both are designed to create and maintain flowing lines through the bike whichever set-up you choose. Real leather outer has unique Triumph branding, and cast aluminium finishers under the seat.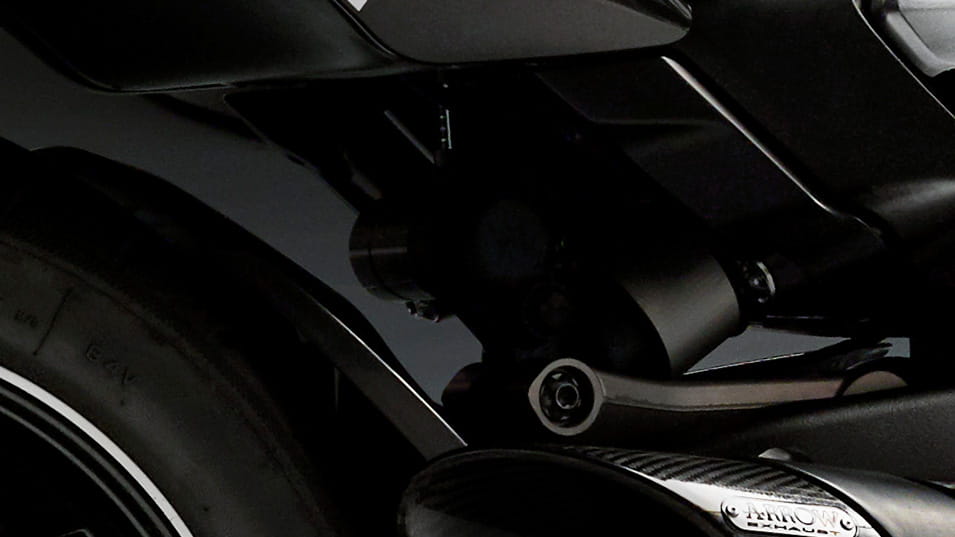 FULLY ADJUSTABLE SHOWA SUSPENSION
Fully adjustable Showa monoshock rear suspension unit with piggy-back reservoir and 47mm adjustable Showa front forks contribute to superior riding comfort and exceptional neutral, agile and confidence-inspiring handling.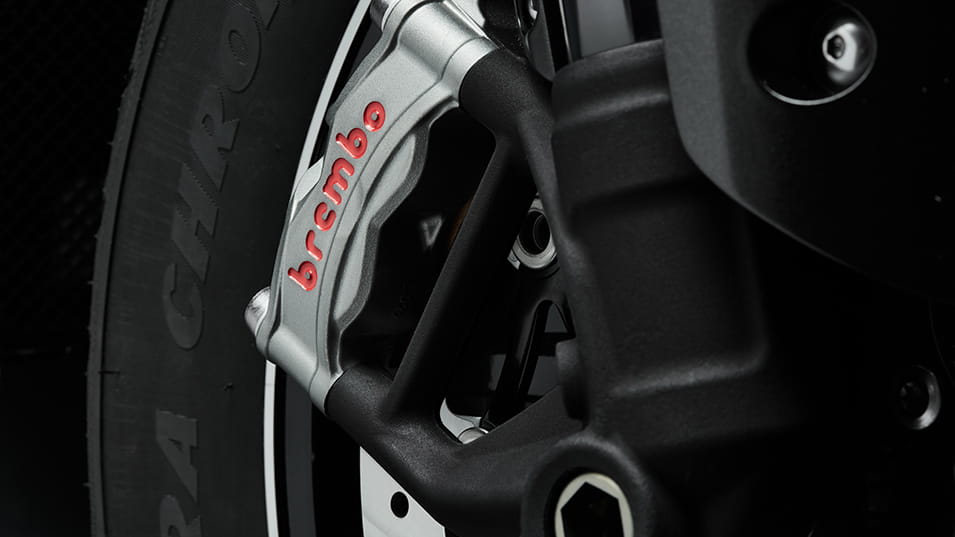 BREMBO STYLEMA® BRAKES
Brembo's top specification road-going brakes require less brake fluid volume around the pistons and brake pads to deliver a more immediate and controlled braking response. Increased airflow around the brake pads helps the calipers to cool quicker.
THE ULTIMATE MOTORCYCLE
NEW 2019 ROCKET TFC
The Rocket TFC limited edition run has now sold out. Make sure you don't miss any of our exciting updates about future Triumph Factory Custom motorcycles.
Find a Dealership