INCREDIBLE PRESENCE AND STYLE
The muscular presence and magnificent style of the new Rocket 3.



Built to impress within an instant, the all-new Rocket 3 line-up certainly displays an imposing poise, with their clean flowing lines, unmistakeable silhouette and distinctive muscular stance.
The dominating presence of the world's largest production motorcycle engine is accentuated with a host of signature design features, beautiful details and an unparalleled finish, all of which contribute to this beautiful bike with a dynamic engaged high performance roadster capability.
Here are some of the most eye-catching features that give the Rocket 3 range its inimitable presence and style.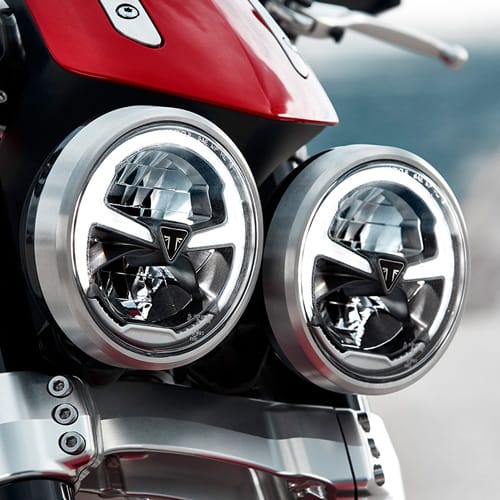 SIGNATURE TWIN LED HEADLIGHT
All-new distinctive twin full LED headlights include beautiful Triumph maker's mark triangle branding and, where local legislations allow, the Rocket 3 runs Triumph's signature-style LED Daytime Running Lights (DRL, local legislation may apply).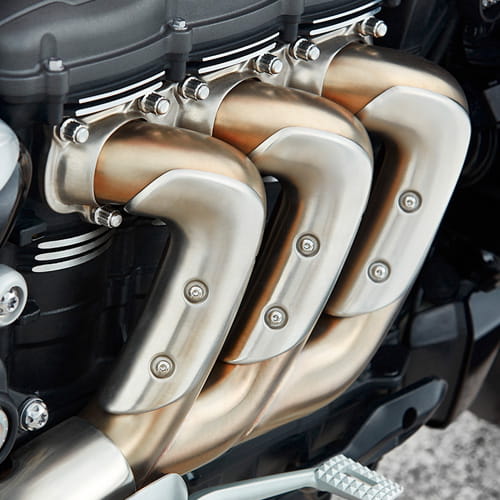 HYDROFORMED EXHAUST HEADERS
The sculpted 3-header exhaust is a signature style highlight of the new Rocket 3 range. The triple header set-up has been innovatively engineered for the perfect exhaust routing flowing from the header into the combined cat box and onto the triple-exit silencer.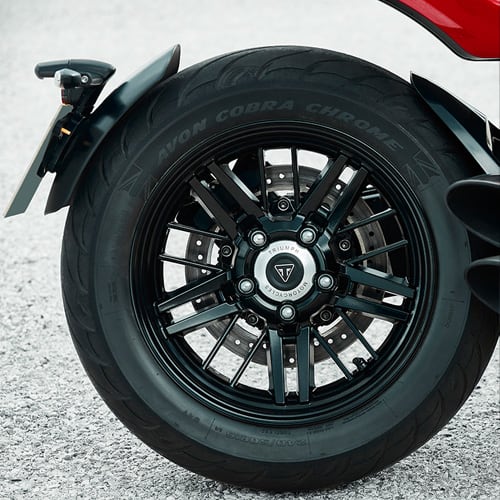 INTRICATE 20-SPOKE WHEELS 
All-new lightweight multi-spoke cast aluminium wheels deliver a stunning contemporary design. The Rocket 3 R's wheels have a beautiful blacked-out finish, while the Rocket 3 GT model displays exposed machining on rim and spokes.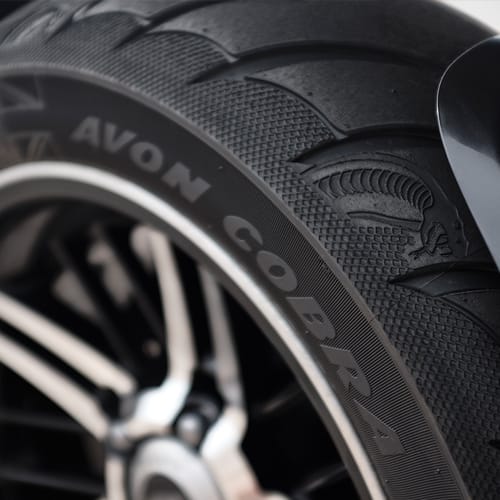 HIGH-SPECIFICATION DEDICATED TYRES 
Avon Cobra Chrome tyres have been developed especially for the Rocket 3 line-up, and the imposing tyre size adds to the distinctive muscular presence.
The tyres have exquisite detailing, and the new tread pattern on the front and rear has been developed for exceptional grip and incredible mileage.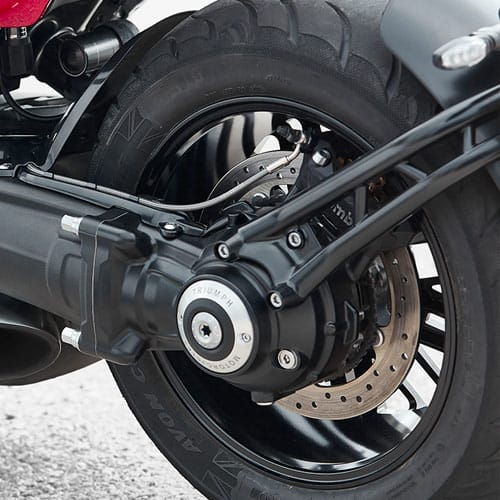 DISTINCTIVE SINGLE-SIDED SWINGARM 
Contributing to the clean, uncluttered styling, and to the compact and minimal rear end of the new Rocket 3 models, the beautifully engineered single-sided swingarm with offset monoshock suspension has high value finishing on bevel box and an aluminium rear number plate hanger.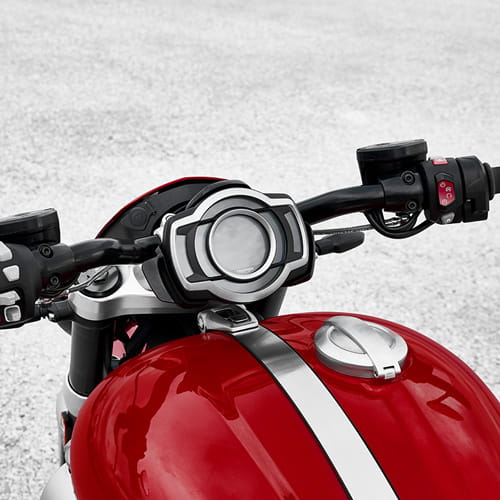 STYLISH INTERNALLY-WIRED HANDLEBARS 
The new Rocket 3 line-up has stylish internally wired handlebars that help to create the bike's muscular feel and commanding riding position as well as to support the adjustable instruments mounted to handlebars. The Rocket 3 R model features roadster-style handlebars, while the Rocket 3 GT model has touring-oriented handlebars.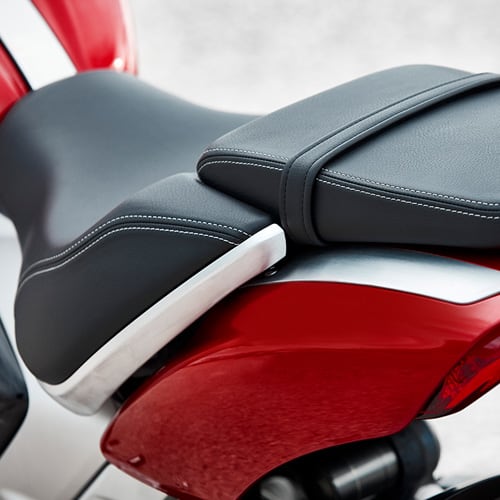 COMFORTABLE TAILORED PILLION AND RIDER SEATS 
The sculpted rider and pillion saddle come with cast aluminium finishers under the seat and create a superb flowing line through the bike.
The set-up for each Rocket 3 has been designed to be easily changed from twin to single seat and the addition of the optional accessory infill pad enhances the single seat looks.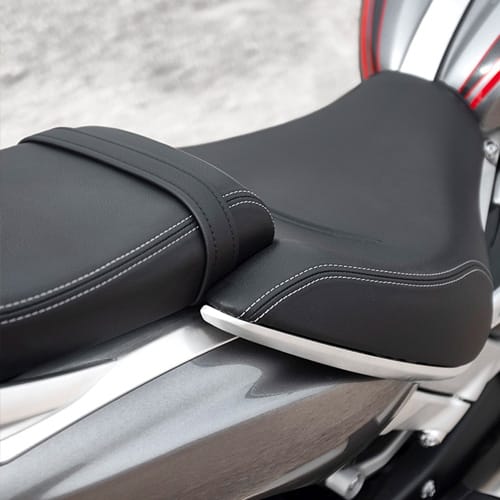 SEAT SET-UPS FOR TWO ROCKET MODELS
Each Rocket 3 model comes with its own dedicated rider and pillion seat set-up.
The Rocket 3 R features a roadster rider and pillion seat with a low 773mm seat height. The Rocket 3 GT features a touring rider and pillion seat set-up with an even more accessible 750mm seat height. The Rocket 3 GT additionally benefits from a brushed aluminium pillion backrest.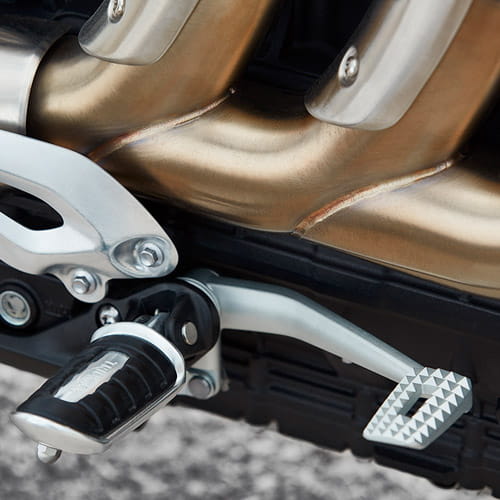 ADJUSTABLE ERGONOMICS 
Each Rocket 3 model has adjustable ergonomics to deliver maximum comfort for every rider.
The mid-foot controls of the Rocket 3 R have two vertical position settings ( 0mm / -15mm ), while the Rocket 3 GT offers feet forward foot controls with three horizontal position settings ( -25mm / 0mm / +25mm ), and a height adjustable pillion backrest.


BEAUTIFUL DETAILS & UNPARALLELED FINISH
The new Rocket 3 motorbike range benefits from a class-defining level of finish & detailing contributing to its magnificent style. These beautiful features include a muscular sculpted fuel tank with Triumph's signature design DNA, brushed stainless steel tank strap and aluminium Monza-style cap, brushed aluminium air-box cover, brushed aluminium Monza-style coolant and oil caps, machined fins on the crankcases, head and cam cover, brushed exhaust heat shields and end caps, and hidden folding pillion footrests with unique foldaway design.