THE LARGEST PRODUCTION MOTORCYCLE ENGINE IN THE WORLD
2,500cc engine capacity, peak power of 167PS, and world-leading peak torque of 221Nm.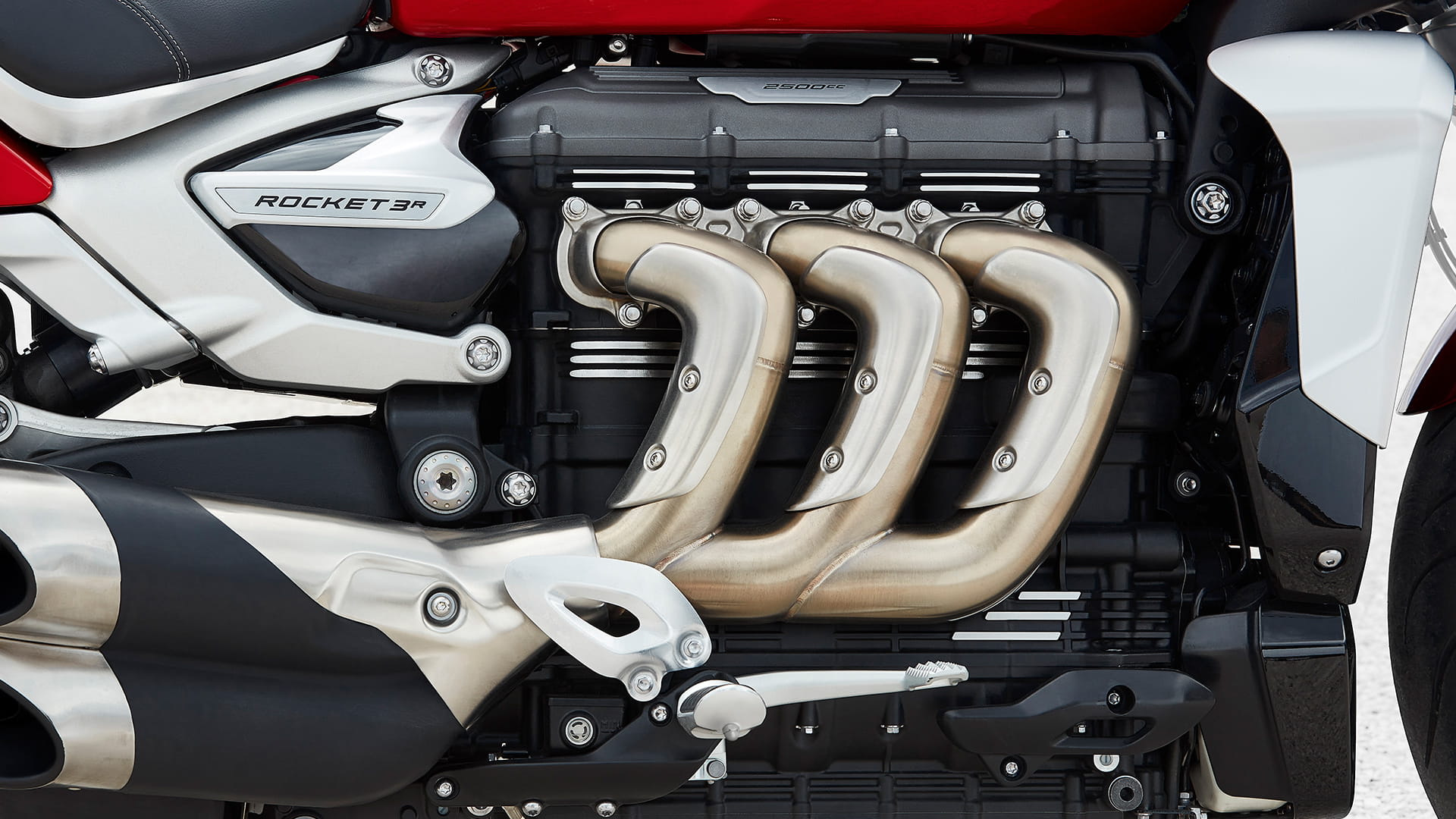 This is the genesis of a new Triumph motorcycle legend that takes the original Rocket DNA and its phenomenal engine platform to a whole-new level, once again making an indelible mark on the motorcycle world.
The all-new Rocket 3 triple engine delivers simply staggering performance and a class-creating riding experience. This is the largest engine capacity ever seen on any production motorcycle with an increased 2,500cc capacity and an unparalleled peak torque figure of 221Nm, which is also the highest of any production motorcycle.
This is a close-up view of this engineering masterpiece.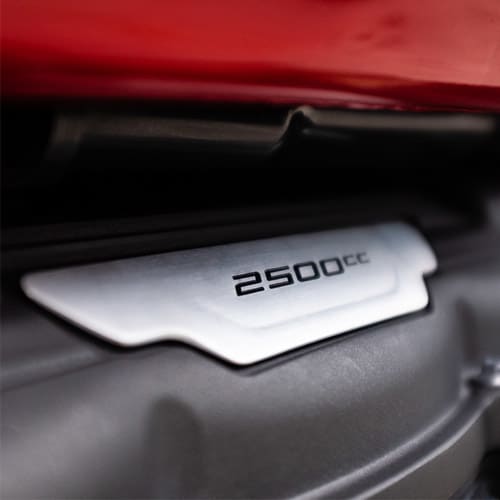 1. WORLD'S LARGEST 2,500cc CAPACITY
The world's largest production motorcycle engine is an all-new 2,500cc Triumph triple which is, of course, an even higher capacity and performance than its predecessor. But an increase in capacity doesn't necessarily mean an increase in weight, because several mass optimised engine weight efficiencies have been designed in to this new Rocket, including weight savings of 18kg achieved from a new crankcase assembly (saving 11kg), a new lubrication system comprising dry sump and integral oil tank (saving 3.9kg), and new balancer shafts which save 3.6kg. In addition, this is an exquisitely engineered powerplant, with beautiful finish and detailing including stunning machined fins on both the upper and lower crankcases.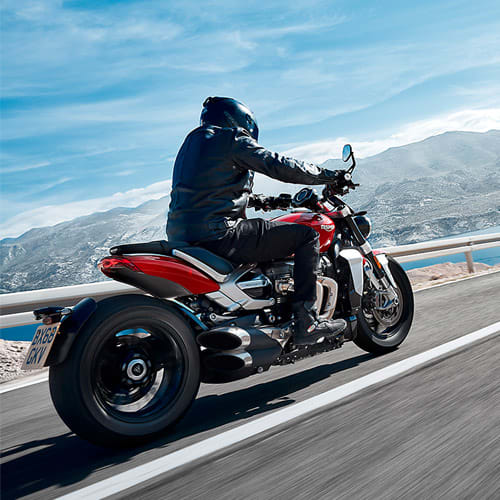 2. THRILLING PERFORMANCE & WORLD'S HIGHEST TORQUE
With peak power of 167PS at 6000 rpm (11% up on the previous generation), the new Rocket 3 offers a thrilling ride with more power from a low 3500 rpm and all the way up to a new higher redline of 7000 rpm. Its new peak torque of 221Nm is a world highest production motorcycle torque figure – an amazing 71% higher peak torque than the closest competition, and more than the previous generation Rocket with its incredible flat rich torque curve that reaches a peak at 4000 rpm, then holds maximum torque all the way through the mid-range to deliver effortless acceleration and response in any gear. This torque, combined with the bike's power and chassis set-up, delivers incredible acceleration figures of 0-60mph in only 2.79 seconds.
3. HYDROFORMED HEADERS
The beautiful distinctive hydroformed three-header exhaust run is an iconic design detail on both the Rocket 3 R and Rocket 3 GT. This has been innovatively engineered for the perfect exhaust routing, flowing from the header into the combined cat box and on-to the triple exit silencer.
4. DEEP GROWLING TRIPLE SOUNDTRACK
Triumph's all-new Rocket 3 line-up features unique brushed exhaust heat shields and end caps to deliver a unique deep growling triple soundtrack, which is delivered by a distinctive triple-exit silencer.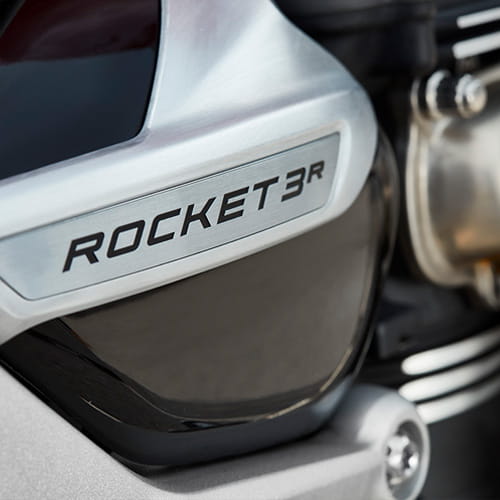 TORQUE ASSIST HYDRAULIC CLUTCH
For high levels of rider comfort and even more control over the Rocket 3's powerful performance, a new torque assist hydraulic clutch provides the rider with a light clutch action by reducing clutch lever effort.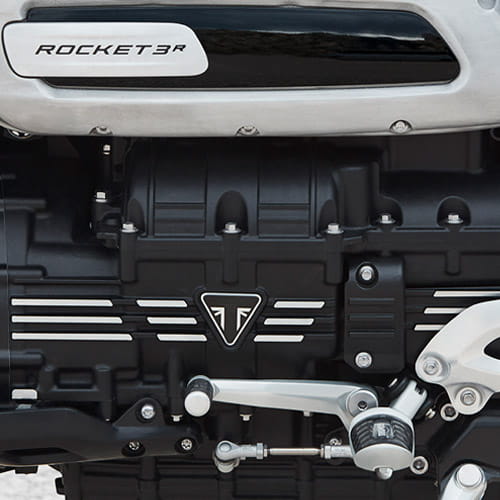 HIGH PERFORMANCE HELICAL CUT GEARBOX
The Rocket 3's all-new high-performance six-speed helical-cut gearbox is precision-engineered to be smoother, stronger and lighter than a standard gearbox, and is designed specifically to allow for the increased torque capacity of this new generation of motorbike.
Triumph Factory Stories - Rocket 3 Engine
Learn about the advanced engineering that goes into producing the Rocket 3 engine, courtesy of Triumph Chief Engineer Stuart Wood.
Triumph Factory Stories - Rocket 3 Chassis
Chief Engineer Stuart Wood gives you an exclusive insight into the development process behind the Rocket 3 handling set-up at the Triumph Factory Visitor Experience.