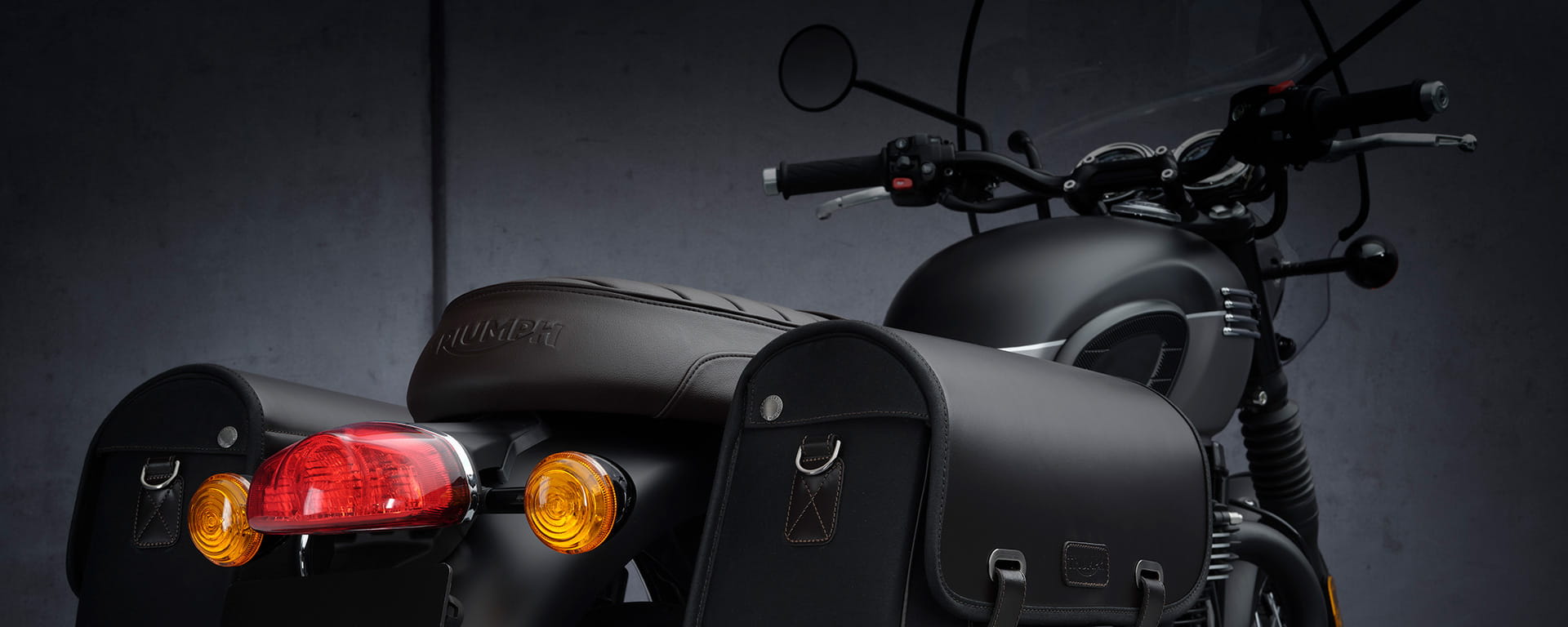 116 CUSTOM BONNEVILLE ACCESSORIES
While we all share a common love of motorcycling, we don't always share the same style and riding ambition. With a comprehensive collection of Genuine Triumph Accessories, there's something to further enhance the Bonneville experience for every owner.
Whether you're looking for luggage for that two-up road trip, uprated rear suspension units for the Sunday blast, or simply want to keep your ride safe with bespoke engine protectors or dresser bars, there's something to make your Bonneville, yours.
With 116 Genuine Accessories to choose from, including more than 50 style enhancing parts, you really can have your Bonneville, your way.
HERE ARE SOME OF OUR FAVOURITES
THE GREAT ESCAPE. GETTING AWAY COULDN'T BE EASIER. OR MORE STYLISH.
Comfort and versatility are built into every Bonneville, so there's every chance your rides will get longer. Gearing up for a big road trip or simply getting set for a weekend away, there's a range of comfort-enhancing accessories to suit you and your T120. We've narrowed it down to these three favourites.
A clear touring screen that fits in minutes will help to take the strain and reduce rider fatigue for the motorway miles.
The very latest waxed cotton panniers and matching tank bag blend stunning Sixties style with modern practicality. With 13.8 litres of capacity in each pannier, and a further 10 litres in the tank bag, there's plenty of space for all your holiday essentials.
Heading off the beaten track and into the mountains? Then heated grips will bring a little luxury to your journey. Bespoke for the Bonneville, fitting is straightforward and the heated grip status is displayed on the instrument face.
Clear touring screen
Waxed cotton luggage
Heated grips




PROTECT YOUR INVESTMENT
With parts designed to both protect and complement your T120 or T120 Black, common sense has never been so stylish.
The aluminium sump plate is anodised to ensure a tough, durable finish and is available in both clear and black to match both models. A discreet yet purposeful looking modification to your T120, it's a great way to keep your Bonneville engine free of stone chips.
Dresser bars combine rugged protection with nostalgia. Designed in keeping with the traditional styling of the T120 and T120 Black, this practical accessory adds style while safeguarding the clutch and alternator covers.
For those who prefer to keep their engine protection a little more understated, we've developed a pair of hard-wearing glass-filled Nylon engine covers to protect the lower section of the engine.
Further subtle protection comes in the CNC-machined form of the fork protectors. Easy to fit and finished with etched aluminium spacers and acetyl sliders, this simple add-on will protect the fork lowers.
Aluminium sump plate
Dresser bars
Engine protector kit
CNC-machined fork protectors
SECURITY. MAKING SURE YOUR BONNEVILLE REMAINS, YOUR BONNEVILLE…
Often even a simple deterrent is enough, but we bring you a range of security solutions to help keep your motorcycle safe.
Carrying your Genuine Triumph U-lock into town couldn't be easier with the mounting kit. The lock sits neatly between the throttle bodies and the crankcases when not in use, and is easily accessible when you need it.
Our Thatcham-approved (Category 2-1) alarm kit brings peace of mind and a piercing siren. Developed with security experts Datatool, it has been designed to work in perfect harmony with the T120's wiring harness.
The combination of the heavy-duty Triumph chain and lock with a matching hardened steel ground anchor is ideal for the garage or parking spot. Chosen and approved by Triumph, these high-quality accessories meet the highest standards.
U-Lock and mounting kit
Alarm kit
Chain and lock / ground anchor
THE ULTIMATE PRACTICAL CLASSIC
Versatility and practicality go hand in hand with the T120 Bonneville. Whatever your reason to ride, your T120 can be tailored to suit.
The centre stand kit is a perfect add-on to help with rear wheel cleaning and chain maintenance.
The Triumph top box is a fantastic accessory for the commuter. Easy to fit and remove with the bespoke bracket, and with a 3kg capacity, this tough, waterproof top box is ideal for keeping a range of items safe and dry.
For lighter cargo and enhanced pillion comfort and security, the combined grab rail and rack is a great choice. Subtly styled to suit the T120 perfectly, it will go almost unnoticed — until you need it.
Centre stand kit
Top box
Grab rail and rack


Your Bonneville, your way.