SPEED TWIN ACCESSORIES
MAKE IT YOURS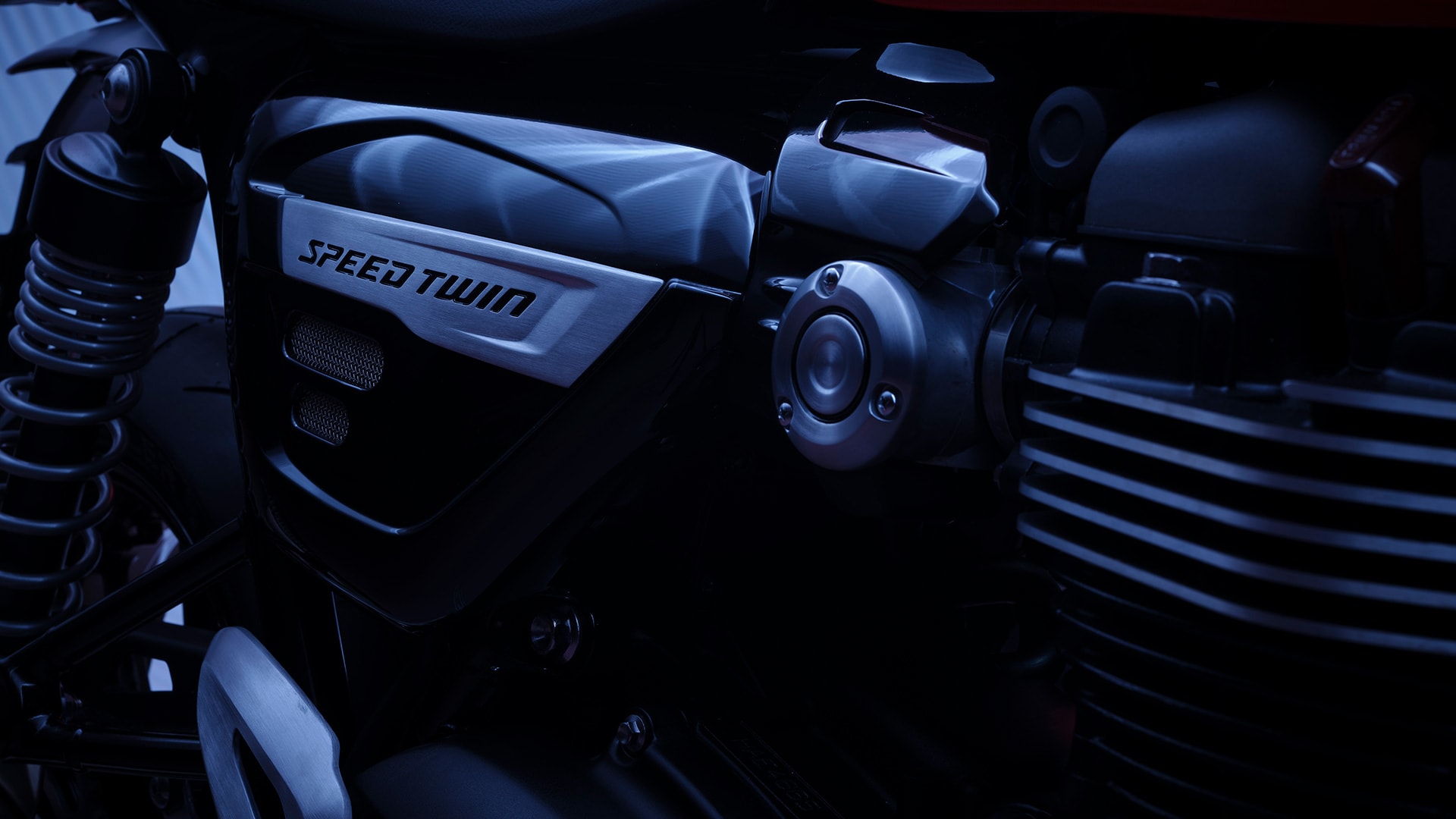 dresser bar
Bringing classic style as well as protection, the fabricated steel dresser bars are available in a high gloss chrome finish or in powder-coated graphite grey or black. Whichever high-quality finish you choose, you can count on rugged protection to the clutch and alternator covers.
Engine protector kit
The engine protector kit is a subtle way of safeguarding your crankcase covers in the event of a drop accidental damage. Made from long glass nylon for abrasion resistance and high impact strength, these secondary covers are simple to fit in under 20 minutes, with no need to drain the engine oil.
Knee Pads
Keeping that beautifully-shaped, signature fuel tank protected from rubbing knees, especially in the grimy winter months, couldn't be easier. Self-adhesive rubber knee pads add to the classic style of the Speed Twin, protect the tank and provide improved rider comfort.
Round bar end mirror kit
The round bar end mirror kit is a direct replacement for the standard itemsmirrors. Fitting takes less than half an hour and the result is a striking, more engineered look with a durable, high-quality, clear anodised finish.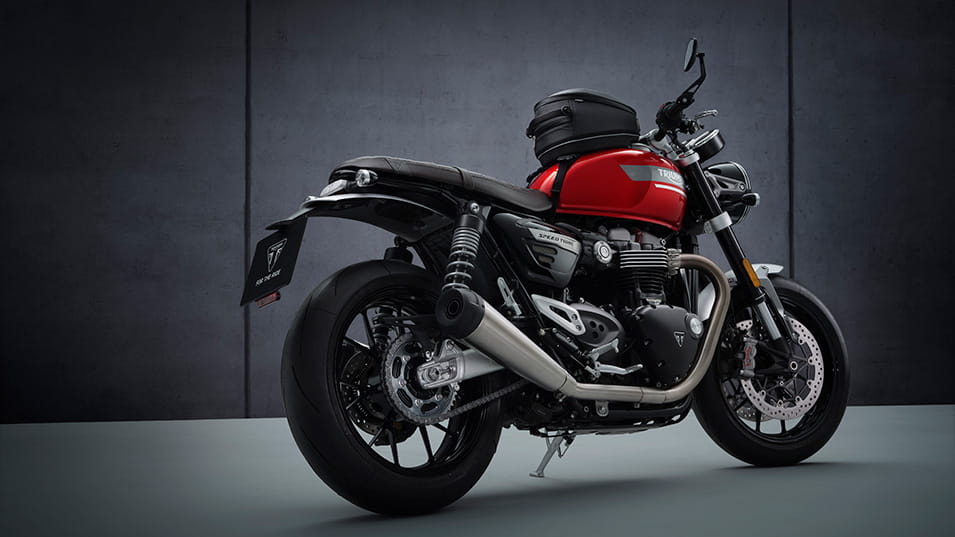 Quilted seat
A real nod to the custom heritage of the modern classic range, the quilted seat is a big favourite among Triumph aficionados. Available in black or brown, these beautifully-made seats feature detailed stitching, offer increased comfort and come complete with pillion grab strap.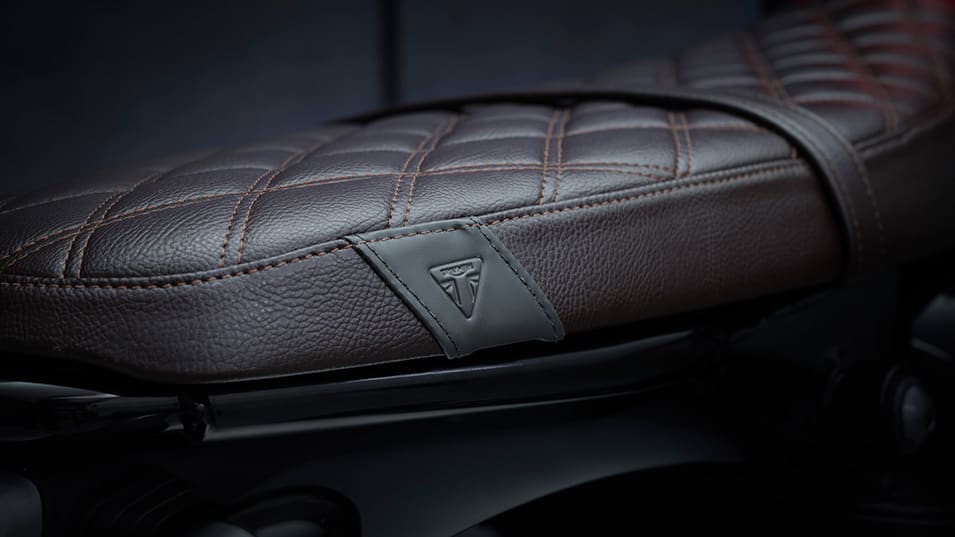 Machined headlight bezel
Sometimes small touches make a big impact. Black anodised with groove machined detailing, the machined headlight bezel is one such accessory. Understated and classy.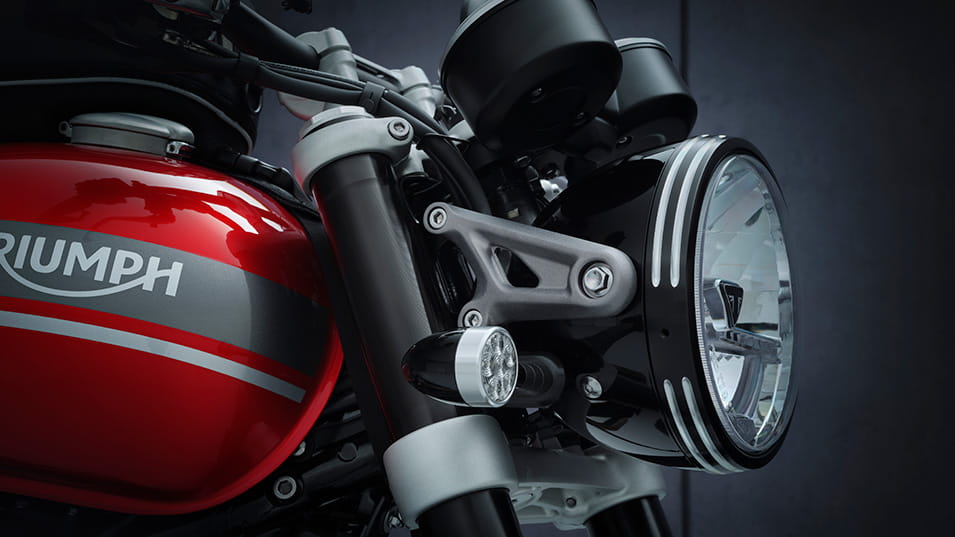 Aluminium sump plate kit
Straddling the line between style and practicality, the brushed aluminium sump plate brings a feeling of racing heritagedistinctive look to the Speed Twin. It's also excellent at protecting against stone chips and is clear anodised for durability. Also available in black.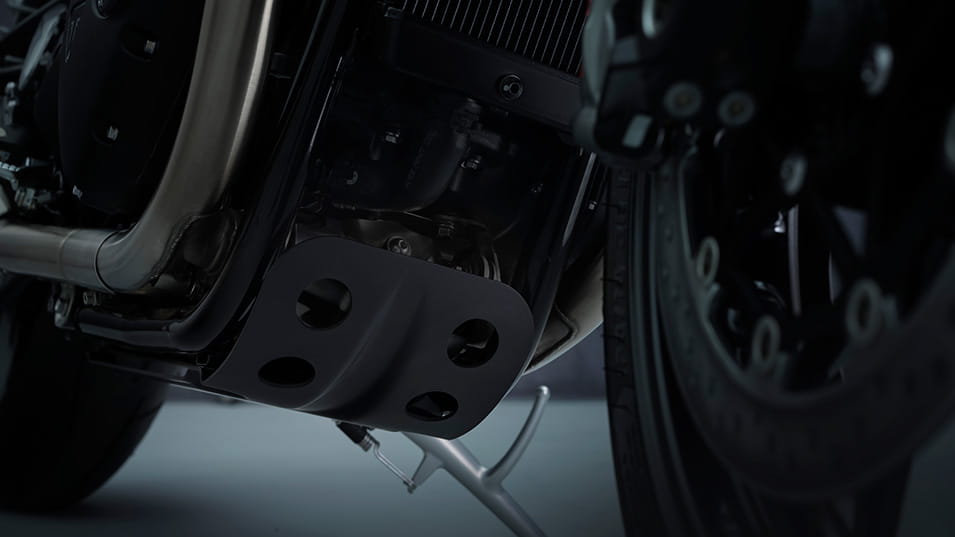 Multi-function lamp kit
The multi-function lamp kit gives an even more minimalist look to the Speed Twin's svelte rear end. The light units replace the standard indicators and display tail, brake and indicator signals. An easy-to-install fitting kit is required which also includes a brushed silver cast aluminium finisher with logo branding to replace the standard rear light.
LED indicator kit
Bullet-style LED front and rear indicators feature a turned aluminium bezel, gloss black body and clear lenses. Available in different lengths, these can be fitted as a set or can be paired with the multi-function lamp kit.
Tyre Pressure Monitoring System (TPMS)
The Speed Twin's modern capability extends to some fantastic accessory technology. The Tyre Pressure Monitoring System (TPMS) can be fitted by a Triumph dealer in just one hour. The pressures are displayed on the instruments and a warning alert is automatically generated if the levels fall below optimum. A great add-on for both rider convenience and safety.