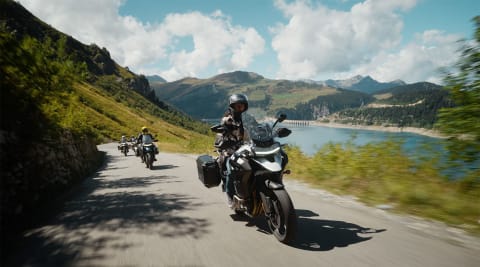 What adventure bike owner hasn't dreamed of a great adventure: Africa, Asia, the United States? Most of the time, it is the distant countries and continents that make us dream. But what if you only have five days and you want to go on a grand tour of Central Europe? Triumph Switzerland united four young people with vastly different motorcycling experiences, put them on a Triumph Tiger and accompanied them on a five-day trip through the French Alps. What happened next, surprised all of us.
The four riders all came from different riding backgrounds. Héloise and Sebastian, a young couple from French-speaking Switzerland, are comfortable in the Modern Classics scene but have little experience on adventure bikes. Anja, who is from Zurich takes every opportunity around her professional life to drag her knees on her racing machine on a circuit around the world. Until now, she has never favoured Adventure Bikes.
Not so for Lennart, who spends every spare minute of his time in the Tiger saddle and has done so for several months. So far so good, the foursome met in Martigny, in the French-speaking part of Switzerland, on an early Thursday morning.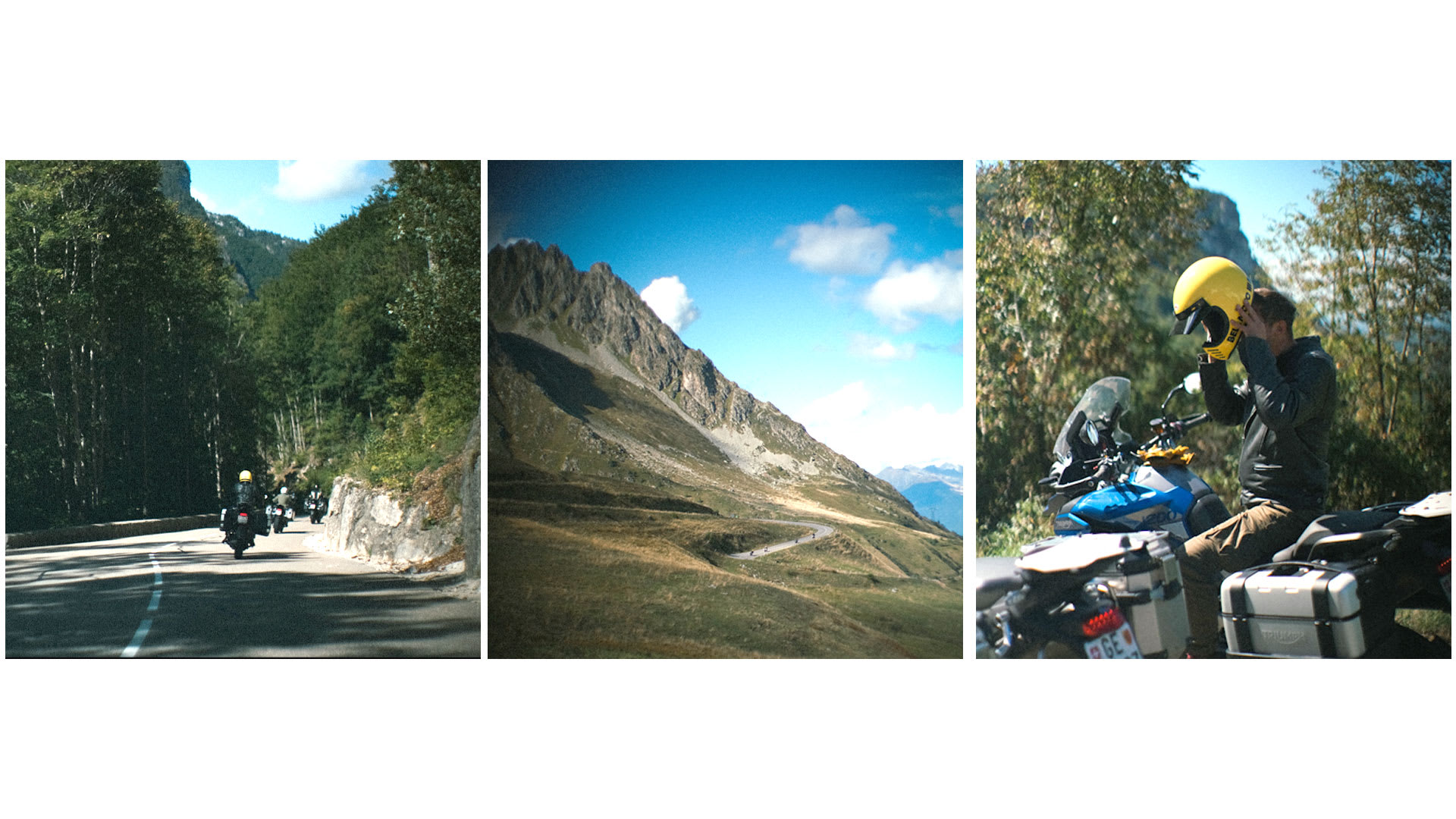 The plan: to ride 2000 km through the French Alps, in five days and mainly on small mountain roads. An ambitious project, even for experienced riders, despite the excellent coaching and motivational skills of guide Lennart.
The French Alps are an excellent backdrop for motorbike tours. Thanks to the French Touring Club, which, more than 100 years ago, encouraged the development of Alpine routes between Geneva in Switzerland and Toulon on the Mediterranean to promote mountain tourism. Today, every child in France knows the Col du Galibier, the geographical highlight of every Tour de France. What is less well known is the endless network of small roads that cross the French Alps and can be ridden along gorges and slopes over every conceivable Alpine pass. The heart of the adventure, what more could you want?
The three adventure beginners tell us about their experiences themselves.



Eloise: "As a lover of old bikes, I didn't know what to expect when I was offered the chance to test ride a Triumph Tiger 1200 for the weekend. Being curious and adventurous, I immediately accepted the opportunity for this adventure.
I took possession of the Tiger 900 Rally Pro, which would be my companion on the road for the next few days. My reaction was: "But it's huge! I'll never make it!
I hit the road with Sébastien, my husband, who accompanies me on this beautiful adventure towards Martigny. From the first few kilometres, I realized how impressive this bike was, and soon discovered that, it was exceptionally light and easy to handle. Even after a period without riding, I felt at ease right away and quickly gained confidence in the bike.
At the rendezvous, Reto welcomed us with a smile and introduced us to the beautiful team with whom I would spend these 5 days, Anja and Lennart, who I at once adored. After the briefing over a coffee, we set off for 5 days of passes, mountains, lakes, and magical landscapes.
Riding the most beautiful French roads for 2 days to get down to Barcelonnette, where 24 hours of pure sensations awaited us, and I was breathless throughout the journey, as we cross the passes and gorges.
The Swiss German was sometimes difficult to translate when it comes to orientation, but the kindness of this beautiful team and the rest promised great memories and a lot of laughter.
We arrived at Barcelonnette and had the chance to join the team of Triumph Ride for an unforgettable day to furrow the small roads between the mountains and rivers of this beautiful region. The marmots complemented the gentle hum of the bikes in this impressive landscape. A lunch in the middle of nature to recharge our batteries and we left with John Mbaye who was our guide for the day.
The trip continued, and we start the big French and Italian passes (Isola, Bonnette, Galibier, Iseran.) I was filled with emotion being in the middle of nature, just like that, without expecting it.
This experience was incredible, the feeling of freedom and happiness to feel alive on the Triumph Tiger 1200 motorcycle, which accompanied me during all this adventure.
The 5-day trip went by so quickly. Our roads separated and each of us returned to our everyday lives.
After this weekend in this bubble out of time, I will remember the adventure and the beautiful stories to tell. The trip on the Triumph Tiger 1200 was both wonderful and divine."
Anja: "When I was invited by Lennart and Triumph to join the tour, I was sceptical at first. For a long time now, I have lost the fun of riding a motorbike on public roads, because today's road bikes, which interest me, are much too fast and powerful to move in a way that suits the purpose of these motorbikes. Lennart's kind words, his photos of the tour and my newfound confidence were all extremely helpful - until I stood in front of the impressive Tiger 1200 GT Explorer: How can I ride such a machine, which feels bigger than my car, through so many tight corners for days and still have fun? Well, Lennart seemed to be sure when he said: "Trust me, it's gonna be a love story". After five turns, I was already scratching the pavement with the foot pedals and the grin on my face was visible through the helmet. It is simply unbelievable how much confidence this bike gave me from the first second, and how I was able to move it intuitively, safely and, contrary to my expectations, sportily through the sometimes-tight bends. Thanks to the Triumph Tiger 1200, I regained the joy of riding on public roads in no time at all. Thank you, Triumph! It's amazing the confidence this bike gives you and how you can intuitively throw it round corners. Thanks to it, I was back to enjoying riding on public roads in no time. Crazy!"

Sébastien: "When the team from Triumph Switzerland offered me a ride in France on the Triumph Tiger 1200, I couldn't refuse. I didn't know the rest of the riders, except my partner Héloise of course. Once we got over the language barrier, my level of English and German being poor, we understood each other at once. At the same time, it was obvious, we all have the same passion for motorbikes and beautiful roads. The Tiger 1200 is an imposing bike, but once under way it is so easy to ride and handle. And what comfort, you can ride it for miles and miles without feeling tired. On the road, Lennart found us a magnificent route in the secondary networks of the French Alps, mixing small winding roads that almost make you dizzy but also make you aware of the agility of these "big" bikes. This adventure made me meet some exceptional people, and I was lucky enough to share this experience with my partner, I wish it to everyone. Now, whenever I come across a Triumph Tiger, it makes me think of the great time spent with Lennart, Anja and the Triumph Switzerland team. "
Lennart: "When Triumph Motorcycles reached out to me to organize an adventure tour, riding the Tigers, I made sure to include some incredibly challenging roads. If it wasn't narrow and twisty, I would not include it in the tour. On top of that, we made sure that the days were long with barely any time to stop. This was going to be hardcore!
Little did I know that our riders were new to the adventure game. I doubted for days: should I change the program and make it easier on them? Should we really ride the roads that require full focus and confident handling of the bikes? Should I give them an afternoon off at some point? I thought back of my own Tiger experiences: without any serious offroad experience, I crossed Iceland and Africa on a Tiger 900 Rally Pro. If I can do that, then anyone can! So, for France, we decided to go with the original plan and not to go easy on anyone.
It turned out to be the best decision possible! We had a blast tackling all those technical and challenging roads. Our riders comfortably manoeuvred the Tigers through all the turns, through all the canyons, over all the mountains. When the helmets came off, all you could see were smiles, all you could hear was happiness. At the end of long riding days, they came off the motorcycles as if they just finished their daily 20-kilometer commute to work. Absolutely thrilled about all the beautiful moments they experienced that day. The agility and comfort offered by the Tigers enabled them to go on the adventure of a lifetime – even when taking place so close to home for us. That, for me, is the beauty of adventure bikes: they enable you to reach new destinations, places that you have never been to before. Whether you discover the world or rediscover your own or neighbouring country: Triumph's Tiger 1200 motorcycle will get you there… and back home again! This adventure was the living proof of that."
TIGER 1200
Triumph Tiger 1200: the world-beating all-roads adventure bike, perfected by you…