TRIUMPH MOTORCYCLES EXTENDS PARTNERSHIP WITH MOTO2TM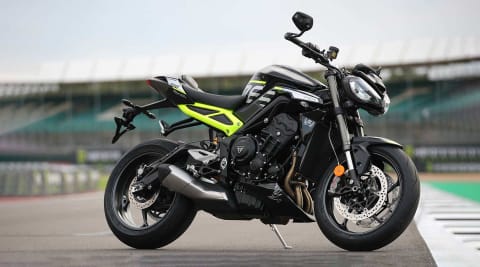 Triumph Motorcycles has signed a new contract to continue as Exclusive Engine Supplier for the FIM Moto2™ World Championship for another five seasons, from 2025-2029.This will see Triumph powering the Moto2TM teams for a decade, enabling riders and teams to thrive and develop using its record-breaking 765 triple engine.
To build on the success so far, and to further improve the performance and capability of the engine, Triumph will develop a full new race gearbox, which will make its debut in the 2025 season. Some improvements are already underway, with the engineering team testing parts after use in this year's Moto2TM rounds in order to make improvements in gear selection for the 2024 season."
Steve Sargent, Chief Product Officer, Triumph Motorcycles said: "Moto2TM continues to be an excellent platform to showcase the performance and capability of our 765 triple engines, driving demand for our new Street Triple 765 range. Over the last five years, we've used the race engine programme to drive enhancements to the 765 engine, and gain insights and learnings that we've used to further develop and evolve our Street Triple 765 range. Our reputation for bulletproof durability, reliability and class-leading performance has grown, which in turn, drives our global sales.
"Just as the Moto2TM teams make every lap count, our engineers have used every opportunity to enhance every dimension of the engine performance, from speed, power and torque, to revs, cylinder pressure and compression ratio. This has enabled us to deliver improvements on track each season, achieving shorter race times, faster top speeds and lap times, more winners and closer racing.
"The new race gearbox will make a big difference to the results that riders can achieve on track in Moto2, and in advance of this, our engineering team is already testing and developing improvements in gear selection, testing parts after use in this year's Moto2TM rounds."
As competition for the Triumph Triple Trophy heats up, the winner's bike, an exclusive Street Triple 765 RS, has been unveiled at Silverstone on the Day of Champions.
Designed to recognise impressive performances throughout the field, the 2023 competition has been fiercely fought so far. Pedro Acosta's incredible lap times see him at the top of the leaderboard with 26 points, closely followed by Dennis Foggia in 2nd place with 21 points, thanks to his excellent race progression. Sam Lowes and Alonso Lopez share 3rd place on 17 points. This year's winner will follow in the footsteps of Moto2TM greats Jeremy Alcoba, Raul Fernandez and Marco Bezzecchi. Follow the competition at Triumph.
NEW STREET TRIPLE 765 RS
Class leading power, the highest ever specification of brakes and technology, plus the next level in razor sharp handling – this is the new performance naked sports benchmark.
Price From $28,800.00