TIGER 1200 RALLY PRO CONQUERS 24HR TRIAL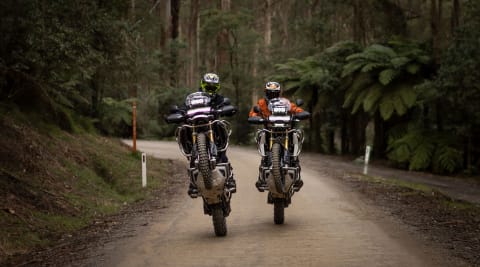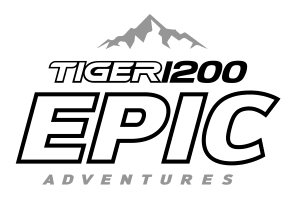 Triumph's all-new Tiger 1200 Rally Pro has become the world's first large-capacity adventure bike to enter – and conquer – the gruelling 24hr trial, in South Australia, where the endurance of rider and machine is tested to the absolute limit.
#Tiger1200EpicAdventures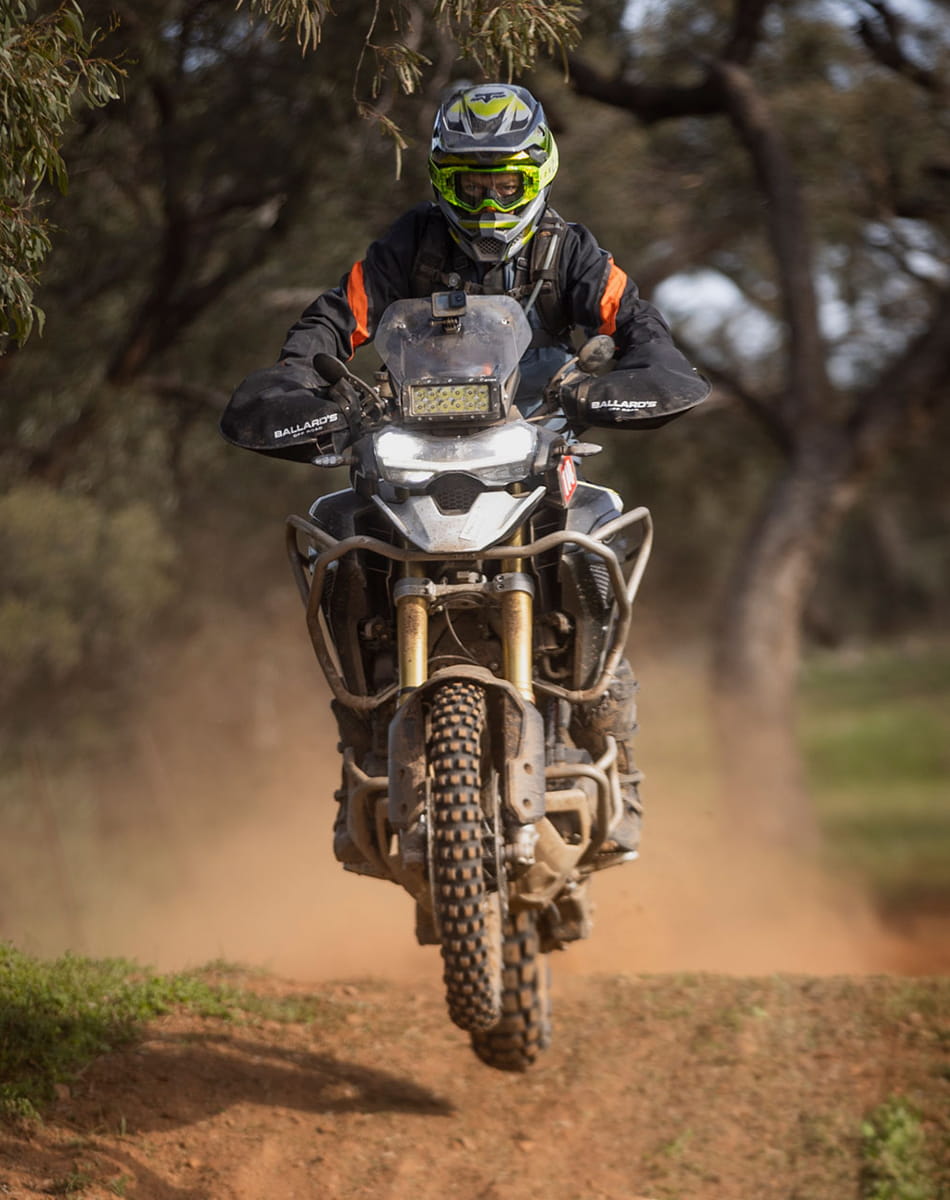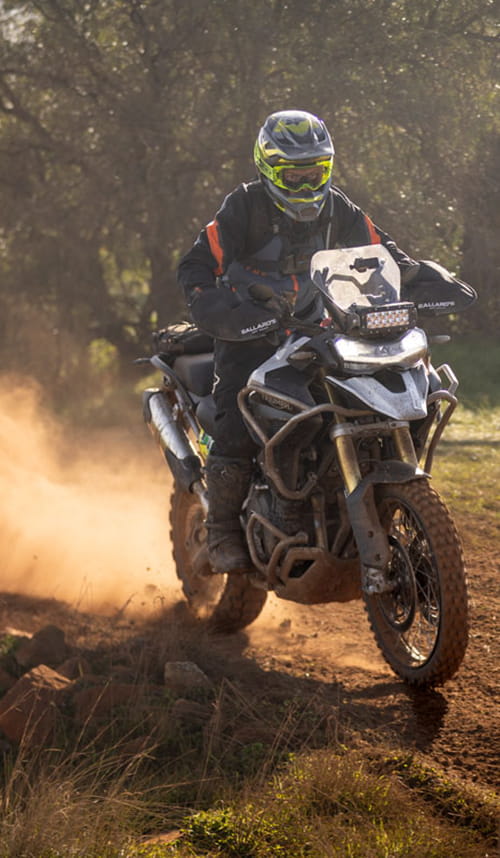 "A lot of people told us we were crazy, not expecting us to finish a single lap let alone four laps to finish the race"
Ridden by none other than Cameron Donald, a two-time Isle of Man TT champion and avid off-road rider and racer, the Tiger 1200 Rally Pro made for an unusual sight among a sea of lightweight enduro bikes over the weekend of July 9-10.
"Physically, that was one of the toughest things I've ever done on a motorcycle," Donald said. "To ride out there in that terrain on these bikes over four six-hour laps for 24 hours was such a battle. It was brutal."
"A lot of people told us we were crazy, not expecting us to finish a single lap let alone four laps to finish the race. Worse yet, an experienced competitor who's finished the race 24 times said this year's course was by far technically most difficult."
"I was constantly amazed by how well the new Tiger 1200 got through the terrain. There was nothing it couldn't do."
"There were boobytraps everywhere including ledges four-feet high and bulldust two-feet deep, often hiding rocks and roots, but the Tiger 1200's momentum and off-road oriented 21-inch front wheel allowed you to point and shoot.
"You had to be careful in the tight, technical terrain but, once it opened up, the Tiger 1200 was unstoppable. The transit sections were warm and comfortable for us thanks to heated grips, cruise control and semi-active suspension.
"In a race as gruelling as the 24hr trial, we threw so much at the Tigers, but they were supremely capable and absolutely shined. I had to laugh when I saw other riders lubing and adjusting their drive chains. I just smiled at the Tiger's shaft drive – no maintenance required."
"I'm gutted both bikes didn't finish, though, and that just drives home the how hard the event actually is," Donald said.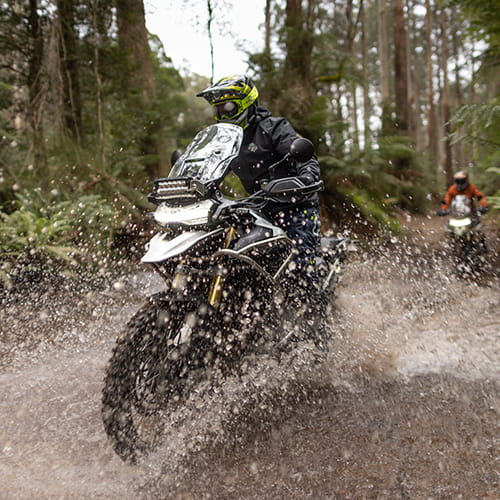 The History
The 24-Hour Trial, historically known as the 24-Hour Reliability Trial, has been running since 1924 and is Australia's oldest motorcycle race. It comprises four six-hours laps with each lap consisting of 12 competitive sections, which are timed (the rider with the lowest cumulative time wins) and 13 transit legs. Three evenly spread fuel stops allow 15 minutes for basic motorcycle maintenance and rider sustenance. Outside assistance is not permitted.

Of the 138 competitors in this year's event, 91 finished and 40 did not (DNF).
Cam Donald's teammate for the race and also riding a Tiger 1200 Rally Pro was his "brother from another mother", Donald Owen – an Expert class enduro rider, B-grade motocross and road racer and professional motorcycle mechanic.
After riding an epic 16 hours of his first attempt of the 24hr trial, Owen hit a deep, square-edge hole hard and was unable to continue, so the bearded wild man immediately turned his attention to supporting Cam get to the finish line.
"'DNF' are letters nobody wants to hear in a race, and I was starting to feel heartbroken. But the support from fellow riders, who all stop to help, and volunteer staff at the control points was truly amazing," Owen said. "When I was stuck in the darkness, a guy walked almost three kilometers through the bush scrub with a head torch to come and help me. I'll never forget that.
"Our next objective was to keep supporting Cam. His ability to ride at the right level – not too hard, not too slow – and maintain the right mental state to get through all the dark times was unbelievable."
Cam Donald described his technique to riding a large adventure bike in an enduro is momentum. "As long as you're going forward, you're fine.
"Riding in the Off-Road Pro mode ensured the Tiger 1200 Rally Pro's power delivery was nice, linear and easy to use – exactly what you want when you're in super tight, technical terrain that would test a 250!
"I formed a special relationship with that bike. We struggled, we argued, we laughed, we cried, but I brought her home safe just as she brought me. Together, we crossed the finish line. I can't believe we did it! I feel as if I've won a race!"
Bike preparation for the gruelling race was minimal. The Tiger 1200 Rally Pro's were fitted with Triumph accessory upper protection bars; aggressive road-legal knobby tyres for maximum traction and an 8.0-inch LED light bar for additional night-time visibility (as per race regulations). Centrestands and pillion mounts were removed for increased clearance.
Significantly lighter and much more powerful, with class-leading handling and specification, plus all of Triumph's new T-plane triple performance advantage, the all-new Tiger 1200 has been designed to be the world's most capable, agile and manoeuvrable large-capacity adventure motorcycle.