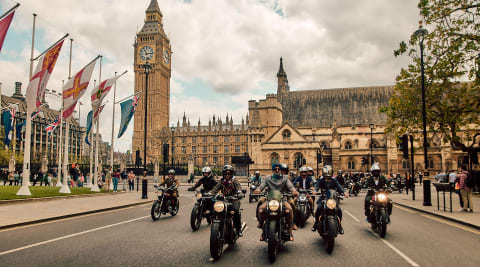 On Sunday 21st May 2023, riders from across the globe dressed dapper to take part in the 2023 Distinguished Gentleman's Ride (DGR). The 2023 edition saw 104,000 riders in 893 cities unite to ride their classic and vintage-style motorcycles, focused on a common cause for good. 2023 marked the 10th year of Triumph Motorcycles' partnership with the DGR with the aim to make the 2023 event the biggest and most successful to date.
When fundraising closed on the 5th of June it marked another record-breaking year for the Distinguished Gentleman's Ride. In total, $7.4M USD has been raised to support Men's health. This total is an increase of 24% compared to 2022 , an incredible achievement by the DGR community despite the current economic climate.
Since the first edition in 2012, more than 500,00 riders have gathered in 121 countries to raise more than $44M USD for men's health. Triumph became the official motorcycle partner of the DGR from 2014, providing financial support and resources to help raise the profile of the DGR globally.